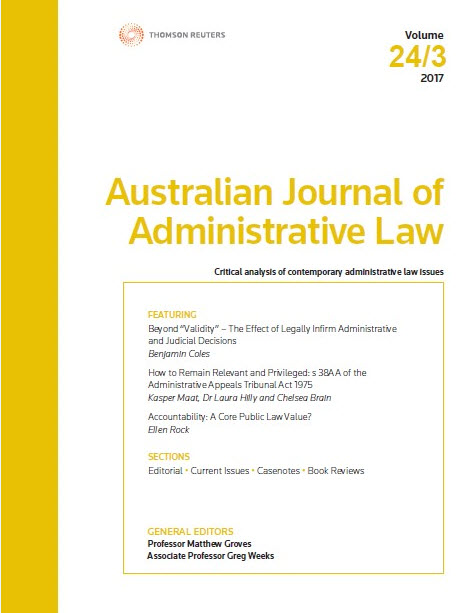 Australian Journal of Administrative Law
Online

Date: 28/10/2008

Code: 41167065

Lawbook Co., AUSTRALIA

Enquiry Sent

A member of our support team will be in touch with you within 1 business day.

Sales Enquiry Form

Australian Journal of Administrative Law

For questions about how to use this product or to get help with your account please visit the Help Centre or Contact Support directly.
Description
Critical analysis of contemporary administrative law issues

The Australian Journal of Administrative Law provides subscribers with current and critical commentary on contemporary developments in administrative law.

The coverage of the journal encompasses civil and political rights, discrimination and refugees, discrimination, trade, commerce and revenue, and work and employment, among other topics. Included in each issue are a range of articles, book reviews, case notes and section notes. The articles and sections are written by recognised practitioners and academics.

The General Editors of Australian Journal of Administrative Law are Professor Matthew Groves and Associate Professor Greg Weeks. Professor Matthew Groves is Professor of Public Law at the Law School of La Trobe University and a fellow of the Australian Academy of Law. He teaches and researches public law, particularly administrative law. Prior to joining the La Trobe Law School, he was a professor in the Law Faculty of Monash University. Matthew has written and edited many books on administrative law and is a former member of the Administrative Review Council. Matthew is one of the key co-authors of the leading text, Judicial Review of Administrative Action and Government Liability (6th ed, Thomson Reuters, 2017).
Associate Professor Greg Weeks is a Senior Lecturer in the College of Law at the Australian National University, where he teaches Administrative Law and related courses. He was previously a member of the Faculty of Law at the University of New South Wales. Greg's research interests are primarily related to judicial review and state liability and he has published a number of articles and book chapters in these fields. Greg has also served as the General Editor of the Australian Administrative Law Bulletin. Greg is one of the co-authors of Judicial Review of Administrative Action and Government Liability, Australia's leading administrative law text (6th ed, Thomson Reuters, 2017).
Online, the Journal features the full backset to Volume 1, 1993, with links to judgments and other online publications, while allowing for individual articles to be downloaded in pdf format or received via RSS feed.
There are approximately four Parts published each year.
To access articles, or to submit an article and have your say, visit our Journals Talk site at http://sites.thomsonreuters.com.au/journals/.