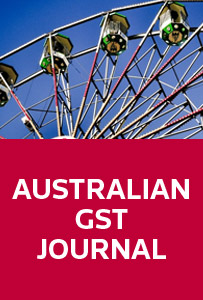 Australian GST Journal
Journal

Date: 01/01/2013

Code: 30140664

Thomson Reuters, AUSTRALIA

Enquiry Sent

A member of our support team will be in touch with you within 1 business day.

Sales Enquiry Form

Australian GST Journal

For questions about how to use this product or to get help with your account please visit the Help Centre or Contact Support directly.
Description
OVERVIEW
Australian GST Journal is a quarterly analytical journal devoted to exploring and resolving both technical and practical GST issues.
The Australian GST Journal continues to be the sole publication devoted entirely to the policy and practice of GST in Australia, with a track record of leadership in the analysis of GST issues.
Michael Evans, the General Editor of the journal, is a Senior Fellow of University of Melbourne where he conducts a GST principles subject in the University's Masters level tax courses.
Michael was a taxation partner with KPMG for more than 20 years and was employed with the Australian Taxation Office for 17 years. During this time, he was a member of the design and drafting projects for corporate and value added tax reform in Australia and New Zealand.
Michael has provided advice and assistance on the design and legislation of indirect taxation systems for Australian and State Treasuries as well as a number of international bodies and government organisations, including The Canadian Ministry of Finance and The Ministry of Finance of the People's Republic of China.
The journal has been listed on the Australasian Business Deans Council Journal Quality List. All academic papers undergo the formal peer review process, which conforms to the Higher Education Research Data Collection Specifications.
Published four times a year, the journal is available as an online subscription on our Checkpoint platform, which provides access to the complete archive dating back to the very first volume in 1998. The journal is also available in print format.
BENEFITS
Expert practical analysis of GST issues to help you understand and advise your clients better
Case notes and news from foreign correspondents keep you abreast of the most significant decisions affecting GST from a wide range of courts & tribunals (including relevant overseas decisions), saving you time and pointing you to the most relevant judicial decisions
Features
FEATURES
The regular 'Case Note' section is authored by respected senior GST practitioners of a reputable tax advisory firm, and analyses recent important court decisions
The regular 'GST Update' section features articles written by practitioners, which provides practical insights on the implications of GST
The regular 'Academic Articles' section features articles written by a range of academics, practtioners, tax administrators and judges
NEW! In upcoming volumes, foreign correspondents will be contributing GST articles to the journal to provide you with a broader perspective on GST developments in the Asia-Pacific region
* Price is for an annual subscription and includes approx 11 Parts per year. Does not include Bound Volumes [if applicable] or Backset which are available separately at an additional price.