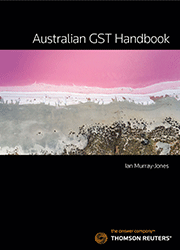 Australian GST Handbook (Westlaw AU)
Online

Date:

Code: 41167631

Thomson Reuters, AUSTRALIA

Enquiry Sent

A member of our support team will be in touch with you within 1 business day.

Sales Enquiry Form

Australian GST Handbook (Westlaw AU)

For questions about how to use this product or to get help with your account please visit the Help Centre or Contact Support directly.
Description
The Australian GST Handbook comprehensively explains the operation of the GST system, covering all aspects of the GST legislation and its relationship with other taxes, including income tax and FBT.
The Handbook uses a highly explanatory style, with a depth of coverage and analysis not matched by other GST guides. Its emphasis is on practical explanations of the GST system, with a critical appraisal of relevant legislation, rulings and cases. Solid understanding of all areas is facilitated by overviews and worked examples.
Written from practical GST experience, the Handbook is indispensable for practitioners and students alike.
The online version of the Australian GST Handbook is updated quarterly throughout the year.
Australian GST Handbook is also available as an e-book.
Features
Logically structured with lots of examples and a user-friendly index to quickly locate key information
Focuses on issues that are most relevant to practitioners, with special attention on how the ATO interprets relevant legislation
Drawing on issues raised from Thomson Reuters' Tax Q&A service, provides insights into practical GST problems
Table of Contents
Summary of Developments.
Overview of GST.
Key GST Concepts.
GST-free Supplies.
Input-taxed Supplies.
Special Rules – Transactions.
Special Rules – Entities.
GST Administration.
GST in Practice.
Transitional Rules and Pending Developments.
Tables: Legislation; Cases; Rulings and determinations; Commissioner's legislative determinations; ATO interpretative decisions.
Index.