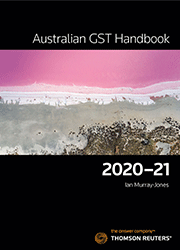 Australian GST Handbook 2020-21
Book

New Release, 03/09/2020

Code: 9780864697660

Thomson Reuters, AUSTRALIA

Australian GST Handbook 2020-21
Description
Overview of The Australian GST Handbook 2020-21
The Australian GST Handbook 2020-21 comprehensively explains the operation of the GST system, covering all aspects of the GST legislation and its relationship with other taxes, including income tax and CGT.
Practical explanations highlight the impact of GST on day-to-day transactions, with special focus on key areas such as real property and claiming input tax credits. Solid understanding of all areas is facilitated by overviews and worked examples. It has a depth of coverage and analysis not matched by other GST guides.
Written with both practitioners and students in mind, the GST Handbook covers the full gamut of GST issues that readers will face.
The 2020-21 edition is up-to-date to 1 August 2020.
What's New in The Australian GST Handbook 2020-21
Restriction on use of cash: proposed measure (effect on GST)
ATO disclosure of tax debts to credit bureaus
Expansion of estimates regime to GST (PCG 2020/2)
Finalised ruling on connected to Australia rule for intangibles (GSTR 2019/1)
Updated legislative instrument on margin scheme
Combatting Illegal Phoenixing legislation passed (GST consequences)
Cases: Melbourne Apartment (sale of apartment by charity was GST-free); Travelex (ATO loses appeal).
Features
Logically structured with lots of examples and a user-friendly index to quickly locate key information
Focuses on issues that are most relevant to practitioners, with special attention on how the ATO interprets relevant legislation
Drawing on issues raised from Thomson Reuters' Tax Q&A service, provides insights into practical GST problems
Table of Contents
Summary of Developments.
Overview of GST.
Key GST Concepts.
GST-free Supplies.
Input-taxed Supplies.
Special Rules – Transactions.
Special Rules – Entities.
GST Administration.
GST in Practice.
Transitional Rules and Pending Developments.
Tables: Legislation; Cases; Rulings and determinations; Commissioner's legislative determinations; ATO interpretative decisions.
Index.