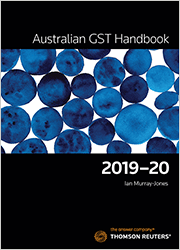 Australian GST Handbook 2019-20 eBook
eBook - ProView

Date: 02/09/2019

Code: 9780864698018

Thomson Reuters, AUSTRALIA

Australian GST Handbook 2019-20 eBook
Description
The Australian GST Handbook 2019-20 comprehensively explains the operation of the GST system, covering all aspects of the GST legislation and its relationship with other taxes, including income tax and CGT.
The GST Handbook focuses on practical explanations to highlight the impact of GST on day-to-day transactions, with special focus on key areas such as real property and claiming input tax credits. Solid understanding of all areas is facilitated by overviews and worked examples. It has a depth of coverage and analysis not matched by other GST guides.
Written with both practitioners and students in mind, the GST Handbook covers the full gamut of GST issues that readers will face.
The 2019-20 edition is up-to-date to 1 August 2019.
What's New in the 2019-20 edition
Rewrite of Div 84 (the reverse charge rules)
Impact of the low-value imported goods rules
Remission of GST on sales of new residential premises
Treatment of digital currencies and foreign currencies in the BAS
Recovery of taxpayer debt (and refunds)
Features
Logically structured with lots of examples and a user-friendly index to quickly locate key information
Focuses on issues that are most relevant to practitioners, with special attention on how the ATO interprets relevant legislation
Drawing on issues raised from Thomson Reuters' Tax Q&A service, provides insights into practical GST problems
Table of Contents
Summary of Developments.
Overview of GST.
Key GST Concepts.
GST-free Supplies.
Input-taxed Supplies.
Special Rules – Transactions.
Special Rules – Entities.
GST Administration.
GST in Practice.
Transitional Rules and Pending Developments.
Tables: Legislation; Cases; Rulings and determinations; Commissioner's legislative determinations; ATO interpretative decisions.
Index.

*
eBooks and packages including an eBook may not be returned once the software key has been supplied. Your rights as a customer to access and use the ProView™ software and a ProView eBook are subject to acceptance of the ProView content licence agreement.
NB
An email with a registration key and instructions for accessing your eBook will be sent after checkout. For existing ProView users the eBook will appear in your library after checkout.

Forthcoming/pre-order eBooks will be available after the publication date.

The ProView app is not currently available on Kindle. See the latest system requirements