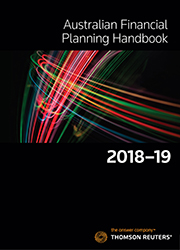 Australian Financial Planning Handbook (WestlawAU)
Online

Date: 25/08/2009

Code: 41167577

Thomson Reuters, AUSTRALIA

Enquiry Sent

A member of our support team will be in touch with you within 1 business day.

Sales Enquiry Form

Australian Financial Planning Handbook (WestlawAU)

For questions about how to use this product or to get help with your account please visit the Help Centre or Contact Support directly.
Description
With expert and updated coverage of the Future of Financial Advice (FoFA) reforms (including the accountants' exemption), superannuation changes, ASIC guidance, recent compliance and regulatory issues and much more, the Australian Financial Planning Handbook 2014-15 saves you research time and increases your ability to provide compliant and accurate advice.
The Handbook also includes commentary on all key developments arising from the 2014 Federal Budget. It focuses strongly on practical financial planning issues, and:
highlights several hundred clearly flagged practical tips;
contains many practical case studies; and
includes checklists, examples, and warnings of traps to avoid, all from the expert authors' first-hand experiences.
The Handbook is indispensable for those new to financial planning and those studying financial planning. It includes special chapters on "Financial planning: getting started" and "The process of financial planning", as well as superannuation, retirement and estate planning, and issues relating to growing older.
Australian Financial Planning Handbook is authored by a team of experienced practitioners, planners and business advisers, including:
Money Management's 1996, 2002 and 2004 Financial Planners of the Year
Field specialists from Flack Advisory Services, Grant Thornton, McMillan Financial Planning Pty Ltd, Remuneration Strategies Group, Civic Legal, Forte Family Lawyers, and PwC
No professional adviser or planner should be without the Australian Financial Planning Handbook 2014-15.
Australian Financial Planning Handbook is also available as an eBook on the Thomson Reuters' Proview eReader.
SAVE 10% when you purchase both the Australian Financial Planning Handbook 2014-15 and the Australian Superannuation Handbook 2014-15 Value Bundle.
Table of Contents
1. Financial planning - getting started
2. The process of financial planning
3. Providing advice
4. Regulation and licensing
5. Income tax from an investor's view
6. Capital gains tax for the investor
7. FBT and financial planning
8. Goods and services tax
9. Superannuation
10. Self-managed superannuation funds
11. Investment structuring – the tax perspective
12. Taxation planning
13. Salary packaging and remuneration strategies
14. Retirement planning
15. Estate planning
16. Financial planning for small business
17. Family law issues
18. Access to government benefits
19. Aged care planning
20. Risk management and insurances
21. Investment – the engine room of personal financial planning
22. Using finance – use and management of debt
23. Additional sources of information
24. Rates and tables
25. Developments to watch
NEED TO CREATE LEGAL DOCUMENTS?
Completely online and simple to follow, Cleardocs Legal documents enable you to create automated SMSF documents which are available within minutes. Choose from the selection below: