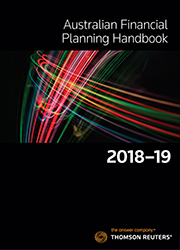 Australian Financial Planning Handbook 2018-19
Book

Date: 27/09/2018

Code: 9780864698490

Thomson Reuters, AUSTRALIA

Australian Financial Planning Handbook 2018-19
Description
The Australian Financial Planning Handbook provides coverage of the Financial Services Royal Commission and recent compliance and regulatory developments. There is expert coverage on the Future of Financial Advice (FoFA) reforms as well as the implications of all the Government's major superannuation changes. Other important topics include: SMSF and social security changes; ASIC requirements; financial adviser education reforms; and robo-advice.
The Australian Financial Planning Handbook 2018-19 sets out all the information needed to satisfy compliance requirements and provide accurate advice.
The Australian Financial Planning Handbook is indispensable for those in practice, but also for those new to financial planning and those studying financial planning. Including special chapters on "Financial planning: getting started" and "The process of financial planning", it also addresses retirement and estate planning, and issues relating to aged care and growing older.
What's new in the latest edition of the Australian Financial Planning Handbook?
Bedding down of the major superannuation reform measures, including housing affordability measures, first home super saver scheme, and the new one-stop shop for external dispute resolution (EDR).
Social security changes.
Guidance for the conduct and disclosure requirements affecting financial advisers.
Operation of professional standards of financial advisers.
ASIC information for accountants providing SMSF services.
Tax Practitioners Board requirements for tax (financial) advisers.
Final report of the Ramsay Review of EDR.
Committee report on financial adviser education standards.
Committee report calling for more reforms to the life insurance industry.
Australian Financial Planning Handbook is a must-have for anyone involved in financial planning.
Table of Contents
1. Financial planning - getting started
2. The process of financial planning
3. Providing advice
4. Regulation and licensing
5. Income tax from an investor's view
6. Capital gains tax for the investor
7. FBT and financial planning
8. Goods and services tax
9. Superannuation
10. Self-managed superannuation funds
11. Investment structuring – the tax perspective
12. Taxation planning
13. Salary packaging and remuneration strategies
14. Retirement planning
15. Estate planning
16. Financial planning for small business
17. Family law issues
18. Access to government benefits
19. Aged care planning
20. Risk management and insurances
21. Investment – the engine room of personal financial planning
22. Using finance – use and management of debt
23. Additional sources of information
24. Rates and tables
25. Developments to watch