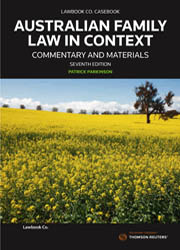 Australian Family Law in Context Commentary and Materials 7e Pack
Book+eBook

Date: 15/02/2019

Code: 42534992

Lawbook Co., AUSTRALIA

Australian Family Law in Context Commentary and Materials 7e Pack
Description
Australian Family Law in Context: Commentary and Materials 7ed, provides a contemporary and innovative examination of family law materials from a range of disciplines and a diversity of perspectives. All viewpoints that may be found in the legal literature on family law are represented in the book through extracts, notes and questions. This test remains the primary resource for law students and a major reference work for others interested in family law.
Table of Contents
PART I: THE FAMILY IN CONTEXT
Chapter 1: What is Family?
Chapter 2: Family Forms and Family Behaviours
PART 2: FAMILY LAW IN CONTEXT
Chapter 3: The Historical Context
Chapter 4: The Theoretical Context
Chapter 5: The Constitutional Context
Chapter 6: Family Violence
PART 3: THE RESOLUTION OF FAMILY DISPUTES
Chapter 7: The Family Courts
Chapter 8: Dispute Resolution in Family Law
Chapter 9: Family Lawyers and Professional Ethics
PART 4: THE FORMATION AND DISSOLUTION OF MARRIAGE
Chapter 10: Marriage
Chapter 11: Divorce
PART 5: ECONOMIC ASPECTS OF RELATIONSHIP BREAKDOWN
Chapter 12: The Ecomonic Context
Chapter 13: Child Support
Chapter 14: Maintenance
Chapter 15: Private Ordering of Property Distribution and Maintenance
Chapter 16: Property un der the Family Law Act
Chapter 17: Discretion and Process in Matrimonial Property Disputes under the Family Law Act
Chapter 18: Property and the Rights of Third Parties
Chapter 19: De Facto and Domestic Relationships: Powers under Statute
PART 6: CHILDREN IN FAMILY LAW
Chapter 20: Children's Rights and Best Interests
Chapter 21: Parenthood
Chapter 22: Children and Relationship Breakdown: The Psychological Context
Chapter 23: Parenting Orders: General Principles
Chapter 24: Children's Matters: Particular Kinds of Disputes
*
eBooks and packages including an eBook may not be returned once the software key has been supplied. Your rights as a customer to access and use the ProView™ software and a ProView eBook are subject to acceptance of the ProView content licence agreement.
NB
An email with a registration key and instructions for accessing your eBook will be sent after checkout. For existing ProView users the eBook will appear in your library after checkout.

Forthcoming/pre-order eBooks will be available after the publication date.

The ProView app is not currently available on Kindle. See the latest system requirements