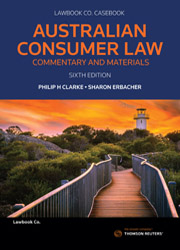 Australian Consumer Law: Commentary & Materials 6th edition book+ebook
Book+eBook

Date: 09/07/2018

Code: 42160464

Lawbook Co., AUSTRALIA

Australian Consumer Law: Commentary & Materials 6th edition book+ebook
Description
Australian Consumer Law: Commentary and Materials contains up-to-date material on the Australian Consumer Law which came into operation on 1 January 2011, replacing 17 different pieces of Commonwealth, State and Territory legislation relating to consumer protection. The sixth edition has been thoroughly revised and updated for the following developments:
Significant new cases and reference to the recommendations in the Productivity's 2017 report, Consumer Law Enforcement and Administration;
An outline of the key recommendations in the Final Report of the of the ACL Review, noting the August 2017 Ministerial responses to these recommendations
Reference to the amendments to the ACL, designed to give effect to the recommendations of the ACL Review accepted by Commonweath, State and Territory Ministers for Consumer Affairs in August 2017, contained in the Treasury Laws Amendment (Australian Consumer Law Review) Bill 2018
The amendments to the 'cooling off' provisions in the ACL's treatment of unsolicited consumer agreements brought about by the Competition and Consumer Amendment (Competition Policy Review) Act 2017
Reference to the proposed amendments to the ACL's penalty regime and its provisions relating to free range eggs (including the introduction of a safe harbour defence), contained in the Treasury Laws Amendment (2018 Measures No 3) Bill 2018
Incorporation of the amendments to the safe harbour defences, as enacted in the Competition and Consumer Amendment (Country of Origin) Act 2017.
Reference to the Country of Origin Food Labelling Information Standard 2016.
New features include:
A new chapter on scams to reflect the ACCC's recent focus on this area of consumer exploitation
Flow charts to assist readers to navigate through complex aspects of the ACL
Brief commentary on the place of the ACL in the panoply of statutory provisions and regulatory and complaint handling bodies designed to protect or assist consumers
Table of Contents
Part I: Introduction
CHAPTER 1: Scope and Policy Objectives
CHAPTER 2: Key Concepts
Part II: Misleading Conduct and False Representations
CHAPTER 3: The Prohibition on Misleading or Deceptive Conduct
CHAPTER 4: Conduct Which May Be Misleading or Deceptive
CHAPTER 5: Advertising
CHAPTER 6: Specific Prohibitions on False or Misleading Representations
Part III: Unconscionable or Unfair Conduct, Terms or Practices
CHAPTER 7: Unconscionable Conduct
CHAPTER 8: Unfair Contract Terms
CHAPTER 9: Unfair Practices
CHAPTER 10: Scams
Part IV: Consumer Transactions
CHAPTER 11: The Consumer Guarantees Regime
CHAPTER 12: Consumer Guarantees for Goods
CHAPTER 13: Consumer Guarantees for Services
CHAPTER 14: Remedies for Consumer Guarantees
CHAPTER 15: Consumer Agreements and Miscellaneous
Part V: Sectoral Protection
CHAPTER 16: Financial Services and Financial Products
CHAPTER 17: Electronic Commerce
Part VI: Product Safety and Liability
CHAPTER 18: Product Safety
CHAPTER 19: Liability of Manufacturers for Goods with Safety Defects
Part VII: Enforcement and Remedies
CHAPTER 20: Organisational, Accessorial and Employee Liability
CHAPTER 21: Enforcement
CHAPTER 22: Private Remedies
Index

*
eBooks and packages including an eBook may not be returned once the software key has been supplied. Your rights as a customer to access and use the ProView™ software and a ProView eBook are subject to acceptance of the ProView content licence agreement.
NB
An email with a registration key and instructions for accessing your eBook will be sent after checkout. For existing ProView users the eBook will appear in your library after checkout.

Forthcoming/pre-order eBooks will be available after the publication date.

The ProView app is not currently available on Kindle. See the latest system requirements