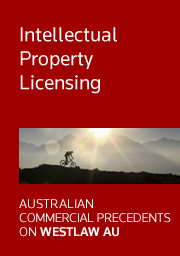 Australian Commercial Precedents: Intellectual Property Licensing
Online

Date: 21/05/2013

Code: 30161568

Thomson Reuters, AUSTRALIA

Enquiry Sent

A member of our support team will be in touch with you within 1 business day.

Sales Enquiry Form

Australian Commercial Precedents: Intellectual Property Licensing

For questions about how to use this product or to get help with your account please visit the Help Centre or Contact Support directly.
Description
Australian Commercial Precedents contains essential precedents for commercial practitioners providing practical assistance across various topics.
Essential precedents for commercial lawyers practicing in intellectual property law and technology law. The precedents cover:
standard IP licensing agreements; including both an IP assignment deed and licence agreement; and
software licensing agreements; including software and end user licence agreements, terms of service and software development and implementation agreements.
Each precedent is easy-to-use, versatile and written in plain legal language.
Each precedent comes with drafting notes and optional clauses which can be hidden in the final draft, making them easy to tailor for a specific brief.
The author of the module, Nathaniel Finn, is a senior associate with Page Seager lawyers and is an IP licensing specialist.