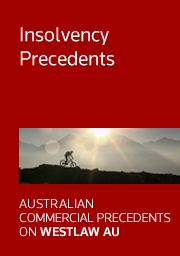 Australian Commercial Precedents: Insolvency Precedents
Online

Date: 01/10/2009

Code: 41167200

Lawbook Co., AUSTRALIA

Enquiry Sent

A member of our support team will be in touch with you within 1 business day.

Sales Enquiry Form

Australian Commercial Precedents: Insolvency Precedents

For questions about how to use this product or to get help with your account please visit the Help Centre or Contact Support directly.
Description
Australian Commercial Precedents contains essential precedents for commercial practitioners providing practical assistance across various topics.
Essential precedents for insolvency practitioners, counsel, accountants and company officials having to deal with insolvency. The precedents cover both:
receivership; and
voluntary administration.
Commentary addresses the preconditions for and use of the various documents.
Each precedent is easy-to-use, versatile and written in plain legal language.
Each precedent comes with drafting notes and optional clauses which can be hidden in the final draft, making them easy to tailor for a specific brief.
The author of the module, James Jarvis, is a partner at Finlaysons and practices principally in the areas of banking and finance and corporate insolvency.