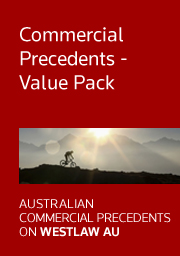 Australian Commercial Precedents: Corporations Precedents
Online

Date: 17/10/2011

Code: 41293113

Thomson Reuters, AUSTRALIA

Enquiry Sent

A member of our support team will be in touch with you within 1 business day.

Sales Enquiry Form

Australian Commercial Precedents: Corporations Precedents

For questions about how to use this product or to get help with your account please visit the Help Centre or Contact Support directly.
Description
Australian Commercial Precedents contains essential precedents for commercial practitioners providing practical assistance across various topics.
Essential precedents for corporate lawyer, counsel or in-house lawyer dealing with:
Proprietary companies' constitutions for standard and subsidiary companies, share classes and pre-emption provisions.
Company incorporations addressing pre-registration applications and registration implementation; and
Company secretarial including directors and shareholders' meetings, company officers and security transactions.
Each precedent is easy-to-use, versatile and written in plain legal language.
Each precedent comes with drafting notes and optional clauses which can be hidden in the final draft.