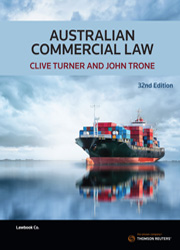 Australian Commercial Law 32e ebook
eBook - ProView

Date: 08/02/2019

Code: 9780455241401

Lawbook Co., AUSTRALIA

Australian Commercial Law 32e ebook
Description
Each chapter in this 32nd edition of Australian Commercial Law has been updated to incorporate legislative and case law developments since the last edition. Extensive rewriting has been undertaken to enhance the readability of the text. Significant changes in this new edition include:
A new summary at the end of each chapter.
A new chapter on Personal Property (Ch 14).
Two significant High Court contract decisions, Simic v New South Wales Land and Housing Corp (2016) (on rectification) and Thorne v Kennedy (2017) (on undue influence and unconscionability), are discussed in Consent of Parties (Ch 7).
Competition Law (Ch 18) incorporates the Competition and Consumer Amendment (Competition Policy Review) Act 2017 (Cth), which has introduced the concept of concerted practices and removed the prohibitions of exclusionary provisions and anti-competitive disclosures of information from the legislation. The Competition and Consumer Amendment (Misuse of Market Power) Act 2017 (Cth) has repealed and replaced the prohibition of misuse of market power. This chapter also discusses two new High Court decisions: Air New Zealand Ltd v Australian Competition and Consumer Commission (2017) (dealing with the concept of a "market in Australia") and Australian Competition and Consumer Commission v Flight Centre Travel Group Ltd (2016) (concerning identification of the relevant market).
Cheques (Ch 24) outlines the new Banking Code of Practice, which will come into effect on 1 July 2019.
Torts (Ch 28) includes the recent High Court decision in Trkulja v Google LLC (2018) (on defamation).
Intellectual Property (Ch 31) considers the new provisions facilitating the parallel importation of genuine trade marked goods, introduced by the Intellectual Property Laws Amendment (Productivity Commission Response Part 1 and Other Measures Act) 2018 (Cth).
Bankruptcy (Ch 32) incorporates the amendments made by the Bankruptcy Amendment (Debt Agreement Reform) Act 2018 (Cth).
Employment Law (Ch 34) includes the High Court decision in Regional Express Holdings Ltd v Australian Federation of Airline Pilots (2017), confirming the right of unions to sue for contraventions of the Fair Work Act 2009 (Cth) on behalf of employees who are not members of the union but are eligible for membership.
Table of Contents
PT 1 INTRODUCTION
1 The Australian Legal System
PT 1 LAW OF CONTRACT
2 Introduction to the Law of Contract
3 Offer and Acceptance
4 Intention to Create Legal Relations
5 Consideration
6 Contractual Capacity
7 Consent of Parties
8 Legality of Object
9 Contents and Interpretation of the Contract
10 Operation of the Contract
11 Termination of a Contract
12 Remedies
PT 3 COMMERCIAL TRANSACTIONS
13 Agency
14 Personal Property
15 Sale of Goods
16 International Sales Contracts
17 Consumer Protection
18 Competition Law
19 Bailments
20 Consumer Credit
21 Guarantees
22 Electronic Commerce
23 Bills of Exchange
24 Cheques
25 Insurance
PT 4 BUSINESS ORGANISATION
26 Partnership
27 Company Law
PT 5 ALLIED AREAS OF LAW
28 Torts
29 Real Property and Native Title
30 Trusts
31 Intellectual Property
32 Bankruptcy
33 Criminal Law
34 Employment Law
35 Business Ethics
Resource Downloads
Instructor Supplements
Please note: these resources are ONLY for the use of lecturers who have prescribed the relevant text. Please email tlrap.academic@thomson.com to request access.
*
eBooks and packages including an eBook may not be returned once the software key has been supplied. Your rights as a customer to access and use the ProView™ software and a ProView eBook are subject to acceptance of the ProView content licence agreement.
NB
An email with a registration key and instructions for accessing your eBook will be sent after checkout. For existing ProView users the eBook will appear in your library after checkout.

Forthcoming/pre-order eBooks will be available after the publication date.

The ProView app is not currently available on Kindle. See the latest system requirements