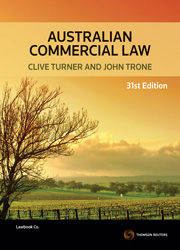 Australian Commercial Law 31st edition
Book

Date: 20/11/2016

Code: 9780455238081

Lawbook Co., AUSTRALIA

Australian Commercial Law 31st edition
Description
Each chapter in this 31st edition of Australian Commercial Law has been updated to incorporate the legislative amendments and case law developments since the last edition. The more significant changes made in the new edition include the following:
The Contract chapters incorporate the High Court decisions in Crown Melbourne Ltd v Cosmopolitan Hotel (Vic) Pty Ltd (2016) on estoppel (Ch 5) and collateral contracts (Ch 9); Gnych v Polish Club Ltd (2015) concerning illegal contracts (Ch 8); and Paciocco v Australian and New Zealand Banking Group Ltd (2016) where late payment fees on credit cards were held not to constitute penalties (Ch 12).
Consumer Protection (Ch 17) includes the Competition and Consumer Amendment (Payment Surcharges) Act 2016 (Cth) which prohibits excessive credit card surcharges and the Treasury Legislation Amendment (Small Business and Unfair Contract Terms) Act 2015 (Cth), which extends the unfair contracts provisions of the Australian Consumer Law to standard form small business contracts. Case law includes the decisions of the Federal Court in Australian Competition and Consumer Commission v Chrisco Hampers Australia Pty Ltd (2015) on unfair contract terms and Australian Competition and Consumer Commission v Reebok Australia Pty Ltd (2015) concerning false or misleading representations about the performance characteristics, benefits or uses of goods.
Restrictive Trade Practices (Ch 18) incorporates the discussion of the concept of "market" by the Federal Court in Flight Centre Ltd v Australian Competition and Consumer Commission (2015) and Australian Competition and Consumer Commission v Australia and New Zealand Banking Group Ltd (2015).
Negotiable Instruments II – Cheques (Ch 24) includes the recent Court of Appeal of Victoria decision in National Australia Bank Ltd v Rose (2016) on the effect of non-compliance with the Code of Banking Practice on bank guarantees.
Torts (Ch 28) contains the significant High Court decisions in Attwells v Jackson Lalic Lawyers Pty Ltd (2016) concerning the scope of advocate's immunity; Badenach v Calvert (2016) on the duty of care of a solicitor to a beneficiary under a will; Brookfield Multiplex Ltd v Owners Corpn Strata Plan 61288 (2014) regarding the liability of a builder for latent defects in a commercial apartment complex; and King v Philcox (2015) on damages for mental harm.
Intellectual Property (Ch 30) outlines the Copyright Amendment (Online Infringement) Act 2015 (Cth). The chapter also considers the High Court decisions in D'Arcy v Myriad Genetics Inc (2015) that claims for the isolated "breast cancer gene" BRCA1 were not patentable and Cantarella Bros Pty Ltd v Modena Trading Pty Ltd (2014) on the meaning of "inherently adapted" in trade marks law. This chapter also incorporates the recent Full Federal Court decision in Scandinavian Tobacco Group Eersel BV v Trojan Trading Company Pty Ltd (2016) regarding parallel importing. The principal features of the new Franchising Code of Conduct are summarised.
NEW! Video and Audio lecturer resources to accompany Australian Commercial Law. Summaries of the important issues and key cases are available to lecturers free upon adoption of the text. Contact your Account Executive for further details on our expanded range of resources.
Table of Contents
PART 1: INTRODUCTION
1. The Australian Legal System
PART 2: LAW OF CONTRACT
2. Introduction to the Law of Contract
3. Offer and Acceptance
4. Intention to Create Legal Relations
5. Consideration, Promissory Estoppel and Formalities
6. Contractual Capacity
7. Consent of Parties: Mistake, Misrepresentation and Unconscionable Contracts
8. Legality of Object
9. Contents and Interpretation of the Contract
10. Operation of the Contract
11. Termination of a Contract
12. Remedies
PART 3: COMMERCIAL TRANSACTIONS
13. Agency
14. Sale of Goods
15. International Sales Contracts
16. The Law of Electronic Commerce
17. Consumer Protection
18. Restrictive Trade Practices
19. Credit Law
20. Guarantees
21. Bailments
22. Property
23. Negotiable Instruments I: Bills of Exchange
24. Negotiable Instruments II: Cheques
25. Insurance
PART 4: BUSINESS ORGANISATION
26. Partnership
27. Company Law
PART 5: ALLIED AREAS OF LAW
28. Law of Torts
29. Law of Trusts
30. Intellectual Property
31. Bankruptcy
32. Criminal Law
33. Business Ethics
34. Employment Law
Resource Downloads
Instructor Supplements
Please note: these resources are ONLY for the use of lecturers who have prescribed the relevant text. Please email tlrap.academic@thomson.com to request access.