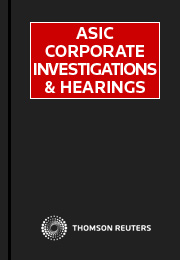 ASIC Corporate Investigations and Hearings
Online

Date: 04/01/2002

Code: 41167019

Lawbook Co., AUSTRALIA

Enquiry Sent

A member of our support team will be in touch with you within 1 business day.

Sales Enquiry Form

ASIC Corporate Investigations and Hearings

For questions about how to use this product or to get help with your account please visit the Help Centre or Contact Support directly.
Description
ASIC Corporate Investigations and Hearings is a highly practical service providing you with detailed coverage of the methods of investigation and enforcement used by ASIC when performing its regulatory functions under the ASIC Act, Corporations Act, consumer credit legislation and superannuation/retirement savings accounts legislation.

ASIC's powers, including powers to conduct investigations, administrative hearings and court proceedings, are comprehensively analysed and examined. This is supplemented with practical guidelines, set out in a user-friendly question and answer format, commentary on recent case law and statutory developments and ASIC regulatory documents. The content is meticulously researched and clearly set out, designed to make this difficult area of regulation easier to understand and to assist you to understand your rights and obligations.
The core material is enhanced by a dedicated New Developments section which addresses pending legislation, recent case law and regulatory developments.
The Year in Review material encapsulates in one place the developments over the past 12 months in an easy to read and circulate format.

ASIC's regulatory responsibilities are continuing to increase, covering Australian companies, financial markets, financial services organisations and professionals, superannuation, insurance, deposit taking and consumer credit. More organisations and their lawyers than ever will be subject to ASIC's investigative and enforcement powers. This service is an essential tool to ensure that you are adopting the best strategies to obtain maximum protection and benefits.

The commentary is updated approximately 5 times per year to assist you to keep abreast of this rapidly changing and fast-moving area of law.

AUTHOR

Associate Professor Thomas Middleton teaches corporate investigations law, commercial and personal property law, trusts and advanced commercial law at the School of Law at James Cook University. He is admitted as a Solicitor of the Supreme Court of Queensland and has over 20 years' teaching experience in the areas of company law, commercial law and the law of trusts. He has published extensively in the area of corporations and regulatory law.
Features
Only service in the market detailing and analysing the powers ASIC has to investigate the affairs of an organisation.
Meticulously researched and regularly updated commentary written by an expert in corporate investigations law.
Organised and structured clearly and concisely to provide you with the answers you need as quickly as possible.
Includes guides to related topics at the beginning of each chapter.
Features practical guidelines set out in a clear question and answer format with numerous cross-references to the text.
Thorough and user-friendly index.
Makes a complex area of law easy to understand.
Assists legal practitioners to grasp the law quickly so they can answer their client's queries as soon as possible, which is critical once ASIC initiates proceedings against a client's organisation.

Table of Contents
Conversion table – Corporations Law to Corporations Act 2001
Year in review
New developments
Policy and legal framework
Persons affected by ASIC
ASIC informal inquiries
Investigations
Examinations
Powers relating to books
ASIC reports on investigations
ASIC proceedings on investigations
ASIC hearings
Conduct of hearings
Release of information
Enforcement
Excuses for non-compliance
Privilege against self-incrimination and penalty privilege
Legal professional privilege
Review
Related legislation
Regulatory guides and materials