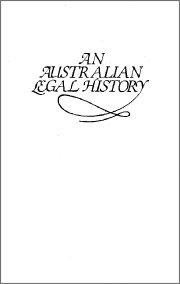 An Australian Legal History PDF
PDF

Date: 01/11/1982

Code: 30112331

Thomson Reuters, AUSTRALIA

An Australian Legal History PDF
Description
An Australian Legal History is a renowned and respected book in Legal History. Published in 1982 and now available as a high quality PDF, the title is considered to be the most influential title. The book traces the history of the courts and sources of law from 1788 to the early 1980's.
Professor Castles explains the ways in which important features of the English system were transplanted to Australia and makes specific reference to the continuing interactions between Australian and English Law. Special consideration is given to Australian initiatives in relation to statute law making, as with land and law mining, and to the relationship of European law and Aborigines.
Includes references to many documents and cases.

It is a work of historical and contemporary importance in lawmaking in Australia.

* By downloading this PDF file you agree to the following:
1. That the file is for your sole use and purpose;
2. You may print this file but only if it is for your personal use;
3. You will not share or make copies of the PDF and will not permit the file to be published or distributed in any other way which is contrary to personal use.
You should note that this material is copyright protected. Please contact us if you would like permission to reproduce this content.