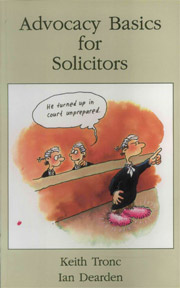 Advocacy Basics for Solicitors PDF
PDF

Date: 15/04/1993

Code: 30140559

Thomson Reuters, AUSTRALIA

Advocacy Basics for Solicitors PDF
Description
Advocacy Basics for Solicitors has an unashamedly "how-to-do-it" emphasis. It was deliberately designed as a basic advocacy manual to help beginning solicitors, newly admitted barristers and articled clerks, together with those more experienced solicitors who may need help in preparing for an unfamiliar aspect of courtroom practice.
It contains no long treatises on the law, nor any extensive case lists or footnotes. Quite simply, this book focuses upon the procedures, practices, protocols and courtesies of the courtroom. It should help relieve the anxieties often suffered by inexperienced legal practitioners.
It is, in fact, the book that we wish we had had access to when we took our first tentative steps into courtroom advocacy, pumping our more experienced colleagues for all possible gems of useful knowledge about what was before us.
First published in 1993, this very useful book is now available as a high quality PDF.
• Introduction: Why Advocacy for Solicitors?
• General Procedures
• Bail Applications
• Pleas of Guilty
• Committals
• Trials
• Chamber Applications
• Advocacy in Commonwealth Courts
• Miscellaneous Applications
• Other Tribunals
• Preparation for Trial

* By downloading this PDF file you agree to the following: 1. That the file is for your sole use and purpose; 2. You may print this file but only if it is for your personal use; 3. You will not share or make copies of the PDF file (in any format) and will not permit the file to be published or distributed in any other way which is contrary to personal use. You should note that this material is copyright protected and may only be used as noted above. Please contact us if you seek additional permission to reproduce this content or would like any further information.