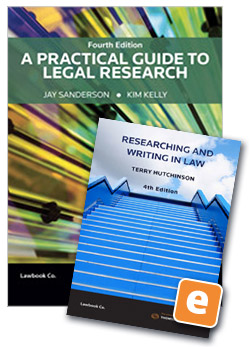 A Practical Guide to Legal Research 4th edition Book + Researching and Writing in Law 4th edition eBook (Value Bundle)
Book+eBook

Date: 04/11/2017

Code: 42545227

Lawbook Co., AUSTRALIA

A Practical Guide to Legal Research 4th edition Book + Researching and Writing in Law 4th edition eBook (Value Bundle)
Description
This Value Pack bundle contains the print book version of A Practical Guide to Legal Research 4th edition and the eBook version of Researching and Writing in Law 4th edition
A Practical Guide to Legal Research
There have been numerous changes to the legal research 'landscape' that necessitated the writing of the 4th edition of A Practical Guide to Legal Research. There have, for example, been several name and platform changes, and many of the traditional categories of sources (eg, dictionaries, encyclopaedias and digests) are now merged into single search engines or platforms. Therefore, this 4th edition includes new and updated examples; updated databases, references and links; as well as updated glossary of key terms at the end of each chapter.
Importantly, though, A Practical Guide to Legal Research (4th ed) remains the most practical, concise and accessible guide to legal research. It presents the essential skills of legal research in Australian Law and International Law, and provides focused examples that allow readers immediate practice and the chance to develop their legal research skills. The Guide moves logically through the process of legal research by actually showing the reader how to do legal research. It is, therefore, an ideal resource for law students, legal information professionals and legal professionals.
Readers can choose to read the Guide from cover-to-cover or dip in and out of it to find specific information or skills (eg, finding and updating cases and legislation). Each chapter covers a particular type of legal resource or jurisdiction, providing general discussion and commentary, with specific search strategies and examples, as well as discussion of both subscription and free services. The Guide has two parts: Part I Researching Australian Law; and Part II Researching International Law.
The book is an invaluable reference for all those studying law and in legal practice.
................................
Researching and Writing in Law eBook
Having the ability to produce independent research is crucially important at the postgraduate level. Producing a quality research paper requires advanced skills in conceptualising the project, identifying a pertinent methodology, project planning, analysis and synthesis of ideas from the literature, together with good writing skills. This 4th edition outlines the 12 main steps in this process. These steps constitute a guide for those students embarking on higher degree research. There are more extensive segments on research ethics, including plagiarism and originality, the importance of developing skills in critique, project management, literature reviews, and reading skills.The material in each chapter is designed to assist you to complete a quality project.
Researching and Writing in Law, 4th edition includes an updated legal research guide. It maps the developments that have occurred, and provides keys to the fundamental electronic sources of legal research, as well as exploring traditional doctrinal methodologies. Included in this edition are extensive checklists for locating and validating the law in Australia, England, Canada, the United States, and New Zealand. Legal research in the twenty first century is more likely to be interdisciplinary and multi-jurisdictional. The inclusion of research checklists for several international jurisdictions, such as the European Union China and India, serves to acknowledge our reliance on broader international and comparative perspectives in pursuing research in the current century.
Law students and members of the practising profession aiming to update their research, knowledge and skills will find Researching and Writing in Law, 4th edition invaluable.
Table of Contents
1. Introduction
2. Legislative Material
3. Case Law
4. Secondary Sources
5. Commercial Law
6. United Kingdom, New Zealand and Canada
7. United States
8. European Union
9. Conflict of Laws
10. Public International Law
*
eBooks and packages including an eBook may not be returned once the software key has been supplied. Your rights as a customer to access and use the ProView™ software and a ProView eBook are subject to acceptance of the ProView content licence agreement.
NB
An email with a registration key and instructions for accessing your eBook will be sent after checkout. For existing ProView users the eBook will appear in your library after checkout.

Forthcoming/pre-order eBooks will be available after the publication date.

The ProView app is not currently available on Kindle. See the latest system requirements