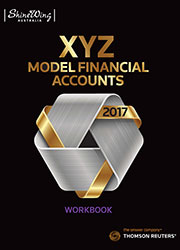 XYZ Model Financial Accounts - Workbook CD 2017
CD

Date: 17/03/2017

Code: 42027366

Thomson Reuters, AUSTRALIA

XYZ Model Financial Accounts - Workbook CD 2017
Description
For further information about the full XYZ MFA suite, please visit http://tax.thomsonreuters.com.au/checkpoint/xyz
OVERVIEW
The 2017 XYZ Model Financial Accounts Workbook examines and explains the accounting requirements of Australian Accounting Standards, providing users with the knowledge and information they need to minimise compliance risk and ensure a smooth year-end and audit process.
Key issues arising from Accounting Standards are presented in a simplified and user-friendly manner, illustrating their application through practical examples using short case studies and summarising the requirements in easy-to-read point form, tables, flow charts and diagrams. Each chapter covers the issues and background to a specific topic.
WHAT'S NEW IN 2017?
New chapter : Transitional Accounting and Disclosures for Significant New Accounting Standards - containing guidance, illustrative examples and sample disclosures to assist with the implementation of these significant new Standards which will become mandatorily applicable over the next two years:
AASB 9: Financial Instruments. Refer to [46-1200]
AASB 15: Revenue from Contracts with Customers. Refer to [46-1500]
AASB 16: Leases. Refer to [46-1600].
– Tax-effect accounting
– Impairment of assets: goodwill, revaluations and cash-generating units. ; and
– Share-based payments. Refer to [28-1600].
Updated examples in all chapters to reflect the current reporting period ending 30 June 2017.
Table of Contents
2017 XYZ MODEL FINANCIAL ACCOUNTS WORKBOOK - CONTENTS
Some of the topics covered include:
New chapter for 2017: Transitional Accounting and Disclosures for Significant New Accounting Standards: AASB 13: Fair Value Measurement; AASB 15: Revenue from Contracts with Customers; AASB: Leases
Deferred Revenues (Including Customer Loyalty Programs)
Amortised Cost - Effective Interest Rate Methodology
Finance Leases and Tax-Effect Accounting
Tax Consolidation Accounting
Impairment of Assets
Related Parties and Key Management Personnel
Foreign Currency Consolidation
Earnings per Share
AASB 3: Business Combinations
Reverse Acquisitions
Joint Arrangements
Distributions of Non-cash Assets to Owners - AASB Interpretation 17
Straight-lining of Operating Lease Expenditure and Income
Lease Incentives
Share-based Payments
Group and Treasury Share Transactions
Events after the Reporting Period
Puttable Financial Instruments and Obligations Arising on Liquidation
Government Grant Income
Statement of Cash Flows
Embedded Derivatives
Glossary of Defined Terms