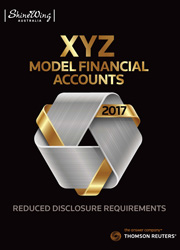 XYZ Model Financial Accounts - Reduced Disclosure Requirements 2017 - CD
CD

Date: 07/04/2017

Code: 42027370

Thomson Reuters, AUSTRALIA

XYZ Model Financial Accounts - Reduced Disclosure Requirements 2017 - CD
Description
Be prepared for the next wave of IFRS
– requiring overhaul of financial statements, with business-wide implications
Since their development in 2010, reduced disclosure requirements (RDR) have generated increasing interest, particularly among not-for-profit entities.
The 2017 update of XYZ Model Financial Accounts – Reduced Disclosure Requirements keeps users up to date with the latest disclosure requirements and other critical information for preparing financial statements under RDR. This publication provides a range of information and tools, including:
discussion of RDR and recent developments affecting Tier 2 entities;
flowcharts to determine how RDR are applied;
disclosure checklists of all RDR and other financial reporting requirements typically applicable to Tier 2 entities; and
model financial accounts for a range of entities, including unlisted public companies, private companies and incorporated associations, prepared using RDR.
New for 2017:
Inclusion of a

n Australian Charities and Not-for-profits Commission (ACNC)-compliant model (see Chapter 4: Unlisted Public Companies at [4-3200]).

Updates on AASB 16: Leases

and AASB 9:

Financial Instruments

to assist preparers to start planning for transition to these Standards.

Discussion of AASB 1058: Income of Not-for-Profit Entities

and AASB 15:

Revenue from Contracts with Customers

, which are expected to significantly impact the recognition of revenue and other income of many entities and, for some, involve a costly, complex and time-consuming transition.
For further information about the full XYZ MFA suite, please visit http://tax.thomsonreuters.com.au/checkpoint/xyz