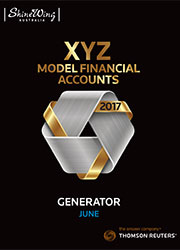 XYZ Model Financial Accounts - Generator - June 2017 - CD
CD

New Release, 28/06/2017

Code: 42027818

Thomson Reuters, AUSTRALIA

XYZ Model Financial Accounts - Generator - June 2017 - CD
Description
XYZ MODEL FINANCIAL ACCOUNTS GENERATOR
XYZ Model Financial Accounts Generator is a financial statements preparation tool that takes the hard work out of generating compliant financial reports. It is the ideal tool to use in conjunction with the other updates in the XYZ Model Financial Accounts product suite, which has been setting industry standards for over 30 years.
The set-up of each model financial report reflects the templates contained in the 2016 XYZ Model Financial Accounts Volumes 1 & 2 Special & General Purpose Financial Reporting and updates, ensuring your presentation-ready financial reports comply with Australian Accounting Standards and ASIC requirements.
XYZ Model Financial Accounts Generator is Excel®-based so users simply need to choose the relevant entity template and key in the data, which will automatically flow through to the relevant worksheets to produce the financial statements and supporting notes.
Features
Prior-year comparatives can be automatically populated by rolling over data from the previous year's XYZ Model Financial Accounts Generator files.
Ability to hide notes that are not relevant to your entity.
Pop-up commentary and comprehensive user guide to step you through the entire financial report preparation process.
Helpful warning messages, with discrepancies highlighted in red and explained in dialogue boxes.
Capability for users of Microsoft Excel 2007 and later versions to save the financial report directly to PDF.
Capacity for users to add their own notes in each of the templates for more flexibility and ease of customisation.
Ability to include or exclude reports within each entity template (with the exception of compulsory components, eg Statement of Profit or Loss, Statement of Financial Position and Notes to the Financial Statements).
Contents page with automatic referencing to page numbers throughout the Financial Statements.
New in June 2017
New in December 2016
Revised audit reports in the Incorporated Association (Non-reporting and Reporting), Large (Consolidated and Single Entity), Not for Profit Entity, Public (Consolidated and Single Entity), Small and Unit Trust (Reporting) templates to comply with the requirements of the new and amended Australian Auditing Standards issued by the AUASB late last year and applicable for periods ending on or after 15 December 2016.
Updated statements of comprehensive income in the Large (Consolidated), Public (Consolidated) and Public (Single Entity) templates in line with AASB 2015-2's requirement to separate the share of the other comprehensive income of associates and joint ventures accounted for using the equity method.
Increased print margins within all entity templates to enable binding of financial reports.