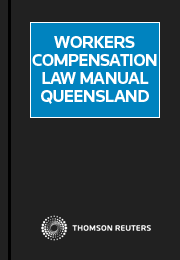 Workers Compensation Law Manual Queensland: Online
Online

Date: 19/12/2006

Code: 41167550

Lawbook Co., AUSTRALIA

Enquiry Sent

A member of our support team will be in touch with you within 1 business day.

Enquiry Form

Workers Compensation Law Manual Queensland: Online
Description
The service is a reference and practice guide and provides a practical step by step guide to handling a workers' compensation claim, including establishing liability, types of claim, making a claim and common law claims. Each step is analysed and discussed in detail with references to reported and unreported decisions and to relevant legislation. It contains practical tips, step-by-step guidelines, checklists, forms and precedents plus the text of relevant legislation including the complete Workers Compensation and Rehabilitation Act 2003 and the Work Health and Safety Act 2011.

The commentary analyses decisions not only of the Queensland Courts but also of other jurisdictions.
The authors of the service are Anna Hendry, Senior Associate at HopGood Ganim Lawyers, and Lisa Blumke, an accredited specialist in personal injuries law.
* Price is for a single annual subscription for firms or businesses with one practitioner. Practitioner is defined as employed and/or self-employed professionals within Australia including: solicitors, self-employed barristers, HR professionals and environmental specialists, corporate counsel, accountants including CPAs and CAs and registered tax agents and financial planners. For pricing for government departments and authorities and multiple users
submit an enquiry online
or call 1300 304 195.