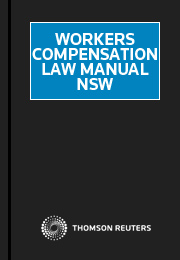 Workers Compensation Law Manual NSW Online
Online

Date: 06/12/2006

Code: 41167547

Lawbook Co., AUSTRALIA

Enquiry Sent

A member of our support team will be in touch with you within 1 business day.

Enquiry Form

Workers Compensation Law Manual NSW Online
Description
Workers Compensation Law Manual NSW is a comprehensive guide to workers' compensation law in New South Wales.

The service provides a practical step by step guide to handling a workers' compensation claim, including establishing liability, types of claim, making a claim, implications for common law actions, liability to repay money to the Commonwealth, employers' obligations and criminal offences. Each step is analysed and discussed in detail with references to reported and unreported decisions and to relevant legislation. The service covers important features of the Workers Compensation Act 1987 and Workplace Injury Management and Workers Compensation Act 1998.

As well as practical tips and comments given throughout, the work also contains a number of precedents, benefits tables and practice notes.

Authors of the service include John Wynyard, a barrister specialising in workers compensation; Rod Parsons, a deputy registrar of the Workers Compensation Commission; and Ramon Loyola, Principal Lawyer at WorkCover Independent Review Office.
* Price is for a single annual subscription for firms or businesses with one practitioner. Practitioner is defined as employed and/or self-employed professionals within Australia including: solicitors, self-employed barristers, HR professionals and environmental specialists, corporate counsel, accountants including CPAs and CAs and registered tax agents and financial planners. For pricing for government departments and authorities and multiple users
submit an enquiry online
or call 1300 304 195.