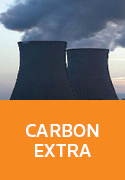 WLAU-Carbon Extra on Westlaw
Online

Date:

Code: 41182283

Thomson Reuters, AUSTRALIA

Enquiry Sent

A member of our support team will be in touch with you within 1 business day.

Sales Enquiry Form

WLAU-Carbon Extra on Westlaw

For questions about how to use this product or to get help with your account please visit the Help Centre or Contact Support directly.
Description
Independent, intelligent news and analysis on climate change and carbon risk.
Building on Thomson Reuters' reputation for cutting-edge news and information, Carbon Extra brings you independent, intelligent news and analysis on climate change and carbon risks and opportunities in Australia and globally.
For a sample issue, click here.

Delivered every Friday via email or online, Carbon Extra's specialist editor and journalists provide in-depth coverage of policy and regulatory developments, updates on significant global trends plus interviews with senior stakeholders from government, industry, NGOs and practitioners.
For a complimentary three-week trial to Carbon Extra or for more information click here.
See also Carbon Extra's related title Environmental Manager.
SOCIAL MEDIA
Follow Carbon Extra on Twitter
Follow Environmental Manager on Twitter
*
Price is for an annual online subscription and includes all weekly issues during the 12 month period for one user. Thereafter, subscription renewal invoices will be automatically issued. Subscribers must provide the publisher with written notice of cancellation within 30 days of the date of their subscription invoice; otherwise the subscriber will be liable for the invoiced amount. Please contact your Account Manager or call Thomson Reuters Customer Service on 1300 304 195 for pricing information regarding multiple users and/or Site/IP Authenticated licence rates – or click here.