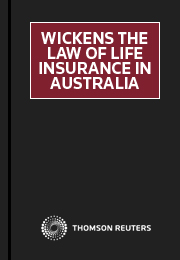 Wickens The Law of Life Insurance in Australia
Looseleaf

Date: 08/08/2012

Code: 30136703

Lawbook Co., AUSTRALIA

Enquiry Sent

A member of our support team will be in touch with you within 1 business day.

Enquiry Form

Wickens The Law of Life Insurance in Australia
Description
Wickens: The Law of Life Insurance in Australia
Lisa Norris, Stanley Drummond, Rehana Box and Anthony Asher
This regularly updated service provides a thorough examination of life insurance law and the administration of life insurance policies. Divided into specific topics relating to life insurance, the text reproduces the relevant legislation and regulations and analyses policy drafting, interpretation and administration issues.
The product has undergone an extensive restructure with a focus on value added material. All commentary chapters have been reviewed and revised in this fast changing area of law. Recently added commentary covers changes in life insurance law such as the Stronger Super reforms and the Australian Privacy Principles Guidelines, the major restructuring of the Prudential Standards, the new Life Insurance framework, Professional Standards for Financial Advisors and discussion of APRA releases.
*
Price is for an annual subscription and includes all updates issued during this period.