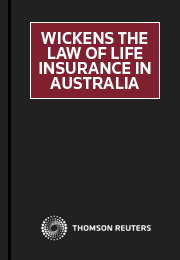 Wicken's Law of Life Insurance in Australia eSubscription
eSub - ProView

Date: 01/07/2014

Code: 41639001

Thomson Reuters, AUSTRALIA

Enquiry Sent

A member of our support team will be in touch with you within 1 business day.

Enquiry Form

Wicken's Law of Life Insurance in Australia eSubscription
Description

Commentary examines life insurance law and the administration of life insurance policies. Divided into specific topics relating to life insurance, the work reproduces the relevant legislation and regulations and analyses policy drafting, interpretation and administration issues authored by TurksLegal staff and Paul Cleary, Chifley Financial Services.

Specialist chapters have been gradually introduced :
Chapter 11, "The Financial Management of Life Insurers", authored by Dr Anthony Asher, Associate Professor at University of New South Wales , provides a coherent explanation of prudential regulation.

Chapter 13, "Taxation" by Peter J Hanley, a taxation and property consultant to Grant Thornton, Chartered Accountants, Brisbane and general counsel, John Harris Property Group, Brisbane, is updated biannually.

Chapter 15, "International Money Laundering and Terrorism Financing Laws, Countermeasures and Standards" written by guest authors, Alison Deitz and John Buttle.
Bills, Reports. Discussion papers are included in the Developments section.Life Insurance cases, ASIC Regulatory Guides and APRA Prudential Standards are covered in the relevant sections of the service.
*
Price is for a single annual subscription for one user and includes all updates issued during the year. For pricing for multiple users or for existing subscribers to the service in other formats, please submit an enquiry online or call 1300 304 195.

eBooks and eSubs (an updating subscription eBook) may not be returned once the software key has been supplied to the customer, which supply will be by email after publication of the eSub or eBook. Your rights as a customer to access and use the ProView software and a ProView eSub are subject to acceptance of the terms upon which are at http://thomsonreuters.com.au/terms/content-licence-for-australian-proview-ebooks.asp.