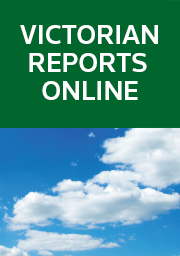 Victorian Reports Online
Report Series

Date: 15/09/2016

Code: 41979574

Thomson Reuters, AUSTRALIA

Enquiry Sent

A member of our support team will be in touch with you within 1 business day.

Enquiry Form

Victorian Reports Online
Description
The Victorian Reports online are the authorised law reports of the Supreme Court of Victoria.
Each full-text judgment reported in the Victorian Reports includes authored catchwords, a headnote approved by the Court, and a related PDF that is a facsimile of the authorised print version of the reports.
The Victorian Reports, edited by former Commonwealth Law Report headnoter Peter Willis SC, are published online by Thomson Reuters under licence from the Council of Law Reporting in Victoria and the publisher, Little William Bourke.
Full archive - the complete backset from 1957 (112 volumes at June 2016), plus the latest reports
Download authorised PDFs for submission in court
Link to other authorised and specialist law reports on Westlaw AU, including the Commonwealth Law Reorts
Link to FirstPoint to check the history and currency of a reported decision
Link from key judgments in the Victorian Reports to respected commentary and analysis by Thomson Reuters authors