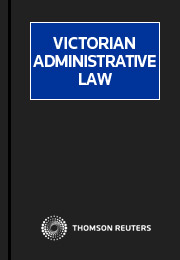 Victorian Administrative Law Online
Online

Date: 26/06/2007

Code: 41167325

Lawbook Co., AUSTRALIA

Enquiry Sent

A member of our support team will be in touch with you within 1 business day.

Enquiry Form

Victorian Administrative Law Online
Description
Victorian Administrative Law is a complete guide to the practice and procedure of administrative law in Victoria. The well regarded author team is headed by Emrys Nekvapil, with contributions by Alistair Pound, Fiona Batten and Nicholas Wood of the Victorian Bar. Jason Pizer SC continues his involvement with the service as Consulting Editor.
The key legislation covering the Victorian Civil and Administrative Tribunal (VCAT), freedom of information, judicial review, the Ombudsman and privacy are extensively annotated. Useful reference materials include an overview of administrative law remedies, analysis of new cases in the VCAT and the Supreme Court, extracts from the Supreme Court Act and Rules with explanatory commentary, practice notes, forms and precedents, and tables listing VCAT's review and original jurisdictions. Coverage of the Charter of Human Rights and Responsibilities Act 2006 includes relevant sections of that Act and the Charter together with substantial commentary and annotations.
Other subscription options are available, which combine the subscription service with the Victorian Administrative Reports.
On Westlaw AU, or ProView eReader, the serivce includes all the features of the looseleaf version with enhanced functionality, extended content, law in force legislation and integration with other Thomson Reuters online publications (subject to subscription).
* Price is for a single annual subscription for firms or businesses with one practitioner. Practitioner is defined as employed and/or self-employed professionals within Australia including: solicitors, self-employed barristers, HR professionals and environmental specialists, corporate counsel, accountants including CPAs and CAs and registered tax agents and financial planners. For pricing for government departments and authorities and multiple users
submit an enquiry online
or call 1300 304 195.