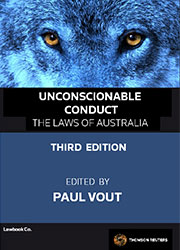 Unconscionable Conduct 3rd Edition - The Laws of Australia eBook
eBook - ProView

Forthcoming Release, 30/11/2017

Code: 9780455238579

Lawbook Co., AUSTRALIA

Unconscionable Conduct 3rd Edition - The Laws of Australia eBook
Description
Unconscionable Conduct – The Laws of Australia 3rd Edition provides revised and up-to-date analysis of estoppel, duress, undue influence, misrepresentation, unconscionability, unconscionable dealing and now includes commentary on the principles of equitable mistake. In so doing, it offers practitioners a unique and in-depth understanding of the equitable, legal and legislative grounds upon which commercial transactions may be set aside for unfair conduct.

This material is also published as part of Titles 7 "Contract: General Principles" and 35 "Unfair Dealing" of The Laws of Australia legal encyclopaedia.
*
eBooks and packages including an eBook may not be returned once the software key has been supplied. Your rights as a customer to access and use the ProView™ software and a ProView eBook are subject to acceptance of the ProView content licence agreement.
NB
An email with a registration key and instructions for accessing your eBook will be sent after checkout. For existing ProView users the eBook will appear in your library after checkout.

Forthcoming/pre-order eBooks will be available after the publication date.

The ProView app is not currently available on IPhone or Kindle. See the latest system requirements
Pre-order: This item will be available on: 30 Nov 2017