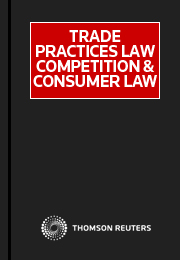 Trade Practices Law Competition and Consumer Law Online
Online

Date: 18/06/2002

Code: 41167263

Lawbook Co., AUSTRALIA

Enquiry Sent

A member of our support team will be in touch with you within 1 business day.

Enquiry Form

Trade Practices Law Competition and Consumer Law Online
Description
In 2017, Justice Heydon continues to robustly update his commentary on Consumer and Competition Law to reflect the ramifications of Commonwealth and State legislative amendments and key cases.
At the same time, important and relevant Bills, reports and discussion papers are regularly added. The service online and paper remains an indispensible work for those practising in this area of law or for those in need of understanding the complexities of Competition and Consumer law.
A further development to the online service has been the introduction of a "Breaking News" feature, which publishes current news including topical discussion papers, up-to-date information on Bills before Parliament and relevant media releases.
Features
Practical, concise and up-to-date commentary including reference to the latest cases
Comprehensive coverage
Well organised
All related legislation is reproduced
Handy comparative table of Trade Practices Act and State fair trading legislation
Reflection on the development and direction of the law over the last 12 months published in a section called a Year in Review.
Cross references from Trade Practices Act 1974 to all relevant Regulations in Editor's Notes (summarised in Table of Related Provisions)
Subject Index to Legislation
New Developments
Recommended Reading
Related Materials