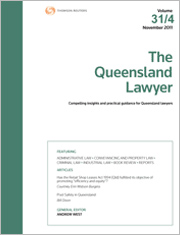 The Queensland Lawyer: Online
Online

Date: 28/10/2008

Code: 41167467

Lawbook Co., AUSTRALIA

Enquiry Sent

A member of our support team will be in touch with you within 1 business day.

Enquiry Form

The Queensland Lawyer: Online
Description
Compelling insights and practical guidance for Queensland lawyers

The Queensland Lawyer provides coverage of the latest legal developments in Queensland through topical articles, selected cases from the District Court, appeals from the Magistrates Court and decisions from State tribunals.

Regular sections include:
Conveyancing and Property Law
Commercial Law
Criminal Law
Family Law
Health & Guardianship Law
Insurance Law
Tort Law
Online, the Journal features the full backset to Volume 1, 1973, with links to judgments, legislation and other online publications, while allowing for individual articles to be downloaded in pdf format or received via RSS feed.

There are approximately four Parts published each year.

To access articles, or to submit an article and have your say, visit our Journals Talk site at http://sites.thomsonreuters.com.au/journals/.