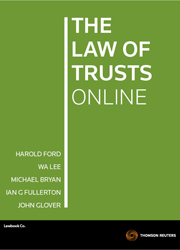 The Law of Trusts Online
Online

Date: 05/09/2001

Code: 41167242

Lawbook Co., AUSTRALIA

Enquiry Sent

A member of our support team will be in touch with you within 1 business day.

Enquiry Form

The Law of Trusts Online
Description
The reputation of the authors as foremost authorities in this area is evidenced by the number of times their work has been cited in cases. Their robust treatment of "trusts" makes it the essential guide to all major topics in this area.
Detailed attention is paid to the underlying general principles and the impact of recent developments in trust law. It also offers a general and comparative view of trusts legislation in all Australian jurisdictions and assists in interpreting the meaning of comparative Acts in the local jurisdiction.

• Trustee Act 1925 (ACT)
• Trustee Act 1925 (NSW) now amended by the Statute Law (Miscellaneous Provisions) Act 2011(NSW) and Charitable Trusts Act 1939 (NSW)
• Trustee Act 1958 (Vic) and Charities Act 1978 (Vic)
• Trustee Act 1973 (Qld) and Charitable Funds Act 1958 (Qld)
• Trustee Act 1936 (SA)
• Trustee Act 1962 (WA) and Charitable Trusts Act 1962 (WA)
• Trustee Act 1898 (Tas) and Variation of Trusts Act 1994 (Tas)
• Trustee Act (NT)
• Trustee Act 1956 (NZ)
Trusts (Hague Convention) Act 1991 (Cth) is also included in the service because of its relevance to conflict of laws and private international laws with respect to trusts. Comparative reference is made to the Trustee Act 1925 and the Trustee Act 2000 of the United Kingdom and the Uniform Trust Code of the United States.

The benefit of the standalone Legislation Volume is that the cross- references from the provisions of the legislation are to the commentary and analysis related to the provision. As there are two considerable chapters on "Charities" in the service, Charitable Trusts Acts was introduced and uses this same method of cross-referencing.
Mr Lee is also the annotation author for the Legislation covered in this work. A comparative table with cross-referencing the provisions of all Australian trusts and trustee legislation and that of New Zealand and the UK has also been added.

The Case Digest is sourced from the Thomson Reuters Australian Legal Monthly Digest which provides an easy reference to important cases cited in the service.
Table of Contents
Looseleaf service with 23 commentary chapters, within two binders with separate tabcards for each chapter. The legislation is contained in Volume 3 and is located behind tabcards for each jurisdiction.

The Users guide, Contents, Index and tables also have their own tabcard.

The service is also available online with approximately 10 updates per year.

The service covers the following topics:
Nature of Trusts and Rights of Beneficiaries
Intention to Create a Trust
The Trustee's Title
The Subject Matter of a Trust
The Objects of a Trust
Requirements as to Form
Limitation of Power of Disposition by Settlor or Testator
Trustees
Trustee's Duties
The Investment of Trust Funds
Capital and Income
Trustee's Power
Trustee's Rights and Remuneration
External Liabilities of Trustees
The Variation of Trusts
Termination of Trusts
Remedies
Trustee's Protections and Defences Relative to Breach of Trust
Charitable Trusts - Definition and Scope
Charitable Trusts - Administration and Cy-pres
Resulting Trusts
Constructive Trusts
Trusts and the Taxation of Trust Income
State, Territory, NZ & UK trusts and charitable trusts legislation

* Price is for a single annual subscription for firms or businesses with one practitioner. Practitioner is defined as employed and/or self-employed professionals within Australia including: solicitors, self-employed barristers, HR professionals and environmental specialists, corporate counsel, accountants including CPAs and CAs and registered tax agents and financial planners. For pricing for government departments and authorities and multiple users
submit an enquiry online
or call 1300 304 195.