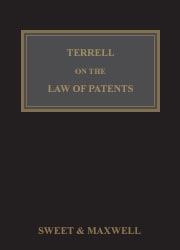 Terrell on the Law of Patents 18e
Book

$655.35* $771.00 RRP Save: $115.65 (15%)

Date: 20/05/2016

Code: 9780414052659

Sweet & Maxwell, UNITED KINGDOM

Terrell on the Law of Patents 18e

Sale Price:

$655.35

Saving: $115.65
Description
The undisputed authority on the law of patents in the United Kingdom, from application to infringement. First published in 1884 and regularly cited in court, Terrell is an essential reference for anyone seeking practical and clear guidance on patent law, practice, and procedure.
Terrell on The Law of Patents covers:
Provides detailed and authoritative commentary and guidance on all aspects of UK patent law and practice.

Includes the most significant case law from all levels of the UK Courts, the European Patent Office, the UK Patent Office, and the Appeals Boards.

Detailed analysis of the application process for UK national patents and European patents (UK).

Addresses issues of entitlement and answers the key questions: who may apply for a patent and who may be granted a patent?

Covers supplementary protection certificates, the conditions for granting an SPC and its effects.

Outlines the grounds for revocation as defined by the Patents Act 1977.

Goes through the different types of invalidity including lack of novelty, obviousness, and insufficiency.

Clarifies the principles of patent infringement to ascertain whether or not there has been an infringement, as well as outlining statutory exceptions and other defences.

Discusses actions for infringement and looks at the parties involved, claims forms, trial procedure, and remedies.

Explains compulsory licenses and licenses of right.

Includes relevant and fully annotated statutory material, as well as sample precedents and pleadings.

Routinely cited in court as the most authoritative text on UK patent law.
Table of Contents
1.Patents
2.The nature of patentable indentions
3.The application
4.Entitlement
5.The granted patent
6.Supplementary protection certificates
7.Priority date
8.The "person skilled in the art" and common general knowledge
9.Construction of the specification and claims
10.Invalidity and the grounds of revocation
11.Invalidity due to lack of novelty (anticipation)
12.Invalidity due to obviousness (lack of inventive step)
13.Invalidity due to insufficiency
14.Patent infringement
15.Amendment of specifications
16.Devolution, assignments and licences, co-ownership and registration
17.Compulsory licenses and licenses of right
18.Action for infringement
19.Remedies for infringement
20.Revocation proceedings
21.Declaration
22.Action to restrain threats
23.Use by the crown. Stamp duty, income tax, etc.