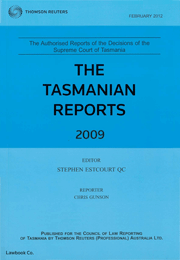 Tasmanian Reports Backset 1897 to 1991 + Volumes 1-18
Report Series

Date: 15/01/1989

Code: 30157322

Lawbook Co., AUSTRALIA

Enquiry Sent

A member of our support team will be in touch with you within 1 business day.

Enquiry Form

Tasmanian Reports Backset 1897 to 1991 + Volumes 1-18
Description
This series represents the authorised reports and decisions of the Supreme Court of Tasmania published on behalf of the Council of Law Reporting of Tasmania.
The series includes important decisions both at first instance and on appeal. Comprehensive headnotes and detailed catchwords accompany the full text of the judgments to speed you through your research. Every judgment and headnote is checked by the judges of the Supreme Court before inclusion in the reports.

The online version has an archive dating from volume 1 of the current series and includes PDF versions of each reports. It features links to FirstPoint to allow FirstPoint subscribers to quickly check the history and currency of a decision.

* Price is for a back set of bound volumes. Does not include an ongoing subscription which is available separately.