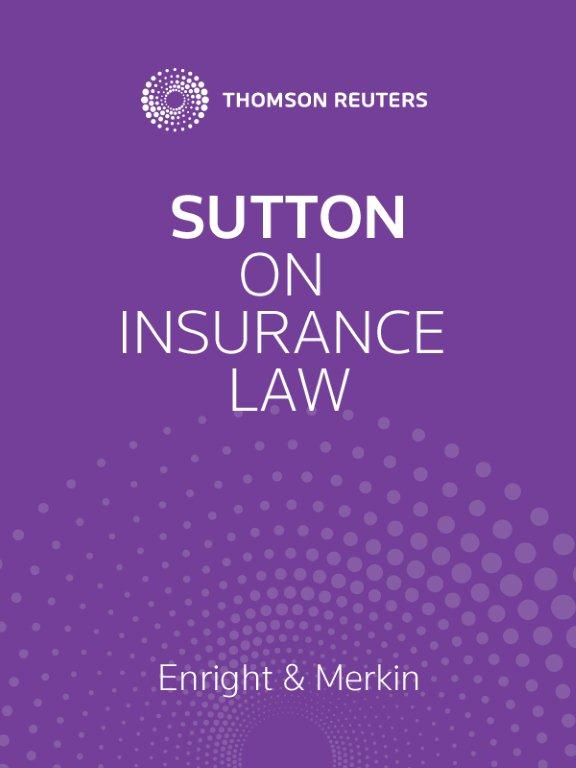 Sutton on Insurance Law on Westlaw AU
Online

Date: 20/07/2015

Code: 41825696

Lawbook Co., AUSTRALIA

Enquiry Sent

A member of our support team will be in touch with you within 1 business day.

Enquiry Form

Sutton on Insurance Law on Westlaw AU
Description
Sutton on Insurance Law provides the definitive subscription work on insurance law. The partnership of Professor Robert Merkin and Ian Enright, under the Honourable Michael Kirby's consulting editorship, gives authoritative structure and detail to this account of modern Australian insurance law. The background and credentials of the authors infuse the work with insights into Australian issues from a contrast and comparison of current Australian and English law. The ordered structure reflects the issues that arise in a modern insurance contract, integrating legislation, regulation and case law around current commercial issues. The clear and practical style makes the work a rich resource for lawyers and insurance market practitioners. Taking an innovative approach which will assist readers, the authors have focused the discussion on the practical implications of regulatory and judicial development.
Sutton on Insurance Law subscribers will benefit from these key features:
Regular updates - commentary is updated approximately 2 to 3 times a year.
Linking and integration - Sutton on Insurance Law online works in conjunction with other Thomson Reuters Westlaw AU services for rapid research. Click on a case name and enjoy integrated access (subject to separate subscription) to FirstPoint and leading authorised reports including NSWLR, CLR and FCR for complete case research.
Proview - Add the ProView eSub version to have the print-like edition at hand, whether or not you're connected to the internet, and without the burden of filing and carrying around looseleaf binders.
Sutton on Insurance Law is an essential subscription resource for all insurance lawyers and business professionals involved in this dynamic area of law.
*
Price is for a single annual subscription for one user and includes all updates issued during the year. For pricing for multiple users or for existing subscribers to the service in other formats, please submit an enquiry online or call 1300 304 195.

eBooks and eSubs (an updating subscription eBook) may not be returned once the software key has been supplied to the customer, which supply will be by email after publication of the eSub or eBook. Your rights as a customer to access and use the ProView software and a ProView eSub are subject to acceptance of the terms upon which are at http://thomsonreuters.com.au/terms/content-licence-for-australian-proview-ebooks.asp.