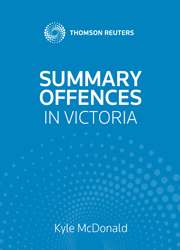 Summary Offences in Victoria - ProView eSub
eSub - ProView

Date: 07/06/2017

Code: 42102585

Thomson Reuters, AUSTRALIA

Enquiry Sent

A member of our support team will be in touch with you within 1 business day.

Enquiry Form

Summary Offences in Victoria - ProView eSub
Description
Summary Offences in Victoria clearly sets out all matters relevant to the prosecution and defence of summary (or minor) offences in Victoria's Magistrates' Courts.
Expert commentary has been written by barrister and former Police Prosecutor Kyle McDonald..
Summary Offences in Victoria addresses issues such as:
Nature and functions of a charge sheet
Distinction between charge sheet and summons
Time limits for commencing summary charges
Wording charges
Location, date and other essential elements
Types of errors in charges
Amending charges
Alternative liability
Sentencing
It provides an alphabetical list of frequently prosecuted summary offences in Victoria and for each offence presents:
the relevant provision
statement of charge
wording of charge
penalty
matters to be proved
other possible offences
defences
Deep links to other Thomson Reuters subscription works (such as Criminal Law, Investigation and Procedure Victoria) are included as "Other references" throughout the work.
The subscription work will be regularly updated (3-4 times per year) to include changes to offences and new offences.