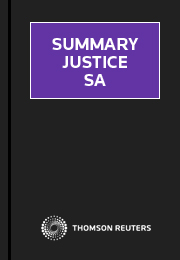 Summary Justice South Australia Online
Online

Date: 26/06/2007

Code: 41167505

Lawbook Co., AUSTRALIA

Enquiry Sent

A member of our support team will be in touch with you within 1 business day.

Enquiry Form

Summary Justice South Australia Online
Description
Summary Justice South Australia is a comprehensive guide to practice and procedure in the criminal jurisdiction of the Magistrates Court in South Australia. It is a unique reference as it is the only subscription publication specialising in this jurisdiction in South Australia.

It contains practical and descriptive commentary with extensive case notes, explains the administration of the Court and the relevant law and court procedures. With chapters set out to follow the chronology of a criminal matter, it is an essential practice tool. Written in a discursive style, reproducing relevant legislation in the commentary, the service is designed to save time and money by providing a comprehensive one-stop reference for the user.

Contents
Chapter 1:Justice of the Peace
Chapter 2:Administrative functions and pre-court procedures
Chapter 3:Contents of pre-trial documents
Chapter 4:Process to compel attendance in court
Chapter 5:Criminal jurisdiction of the Magistrates Court
Chapter 6:Forum conveniens and open-closed court
Chapter 7:Appearance of parties and adjournments
Chapter 8:Guilty plea
Chapter 9:Trial procedure
Chapter 10;Sentence
Chapter 11:Committal proceeding
Chapter 12:Preventive justice
Chapter 13:Appeals, cases stated, prerogative writs
Chapter 14:Miscellaneous
Other relevant legislation
Forms and Practice Directions

The looseleaf version is published in one handy volume and is updated at least every eight weeks. The online version, available on the Legal Online platform includes all the features of the looseleaf version with enhanced functionality, extended content, law in force legislation and integration with other Thomson Reuters online publications (subject to subscription).
* Price is for a single annual subscription for firms or businesses with one practitioner. Practitioner is defined as employed and/or self-employed professionals within Australia including: solicitors, self-employed barristers, HR professionals and environmental specialists, corporate counsel, accountants including CPAs and CAs and registered tax agents and financial planners. For pricing for government departments and authorities and multiple users
submit an enquiry online
or call 1300 304 195.