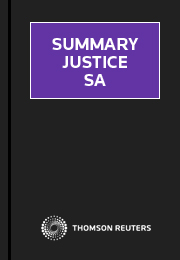 Summary Justice South Australia Online
Online

Date: 26/06/2007

Code: 41167505

Lawbook Co., AUSTRALIA

Enquiry Sent

A member of our support team will be in touch with you within 1 business day.

Enquiry Form

Summary Justice South Australia Online
Description
Summary Justice South Australia is a comprehensive guide to practice and procedure in the criminal jurisdiction of the Magistrates Court in South Australia. It is a unique reference as it is the only subscription publication specialising in this jurisdiction in South Australia.
It contains practical and descriptive commentary with extensive case notes, explains the administration of the Court and the relevant law and court procedures. With chapters set out to follow the chronology of a criminal matter, it is an essential practice tool. Written in a discursive style, reproducing relevant legislation in the commentary, the service is designed to save time and money by providing a comprehensive one-stop reference for the user.
The looseleaf version is published in one handy volume and is updated at least every eight weeks. The online version, available on the Legal Online platform includes all the features of the looseleaf version with enhanced functionality, extended content, law in force legislation and integration with other Thomson Reuters online publications (subject to subscription).