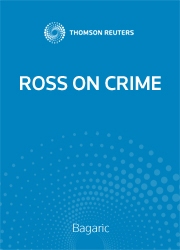 Ross on Crime Online
Online

Date: 27/11/2006

Code: 41167163

Lawbook Co., AUSTRALIA

Enquiry Sent

A member of our support team will be in touch with you within 1 business day.

Enquiry Form

Ross on Crime Online
Description
"The work is an excellent first reference ... It is a superlative incourt reference tool."
- Chris Tam, Hearsay, October 2010

"From leading silks down to mere hacks Ross on Crime is a valuable friend at the bar table."
- Simon Watters, Brief (WA), February 2008
"David Ross would have to be one of the best legal authors presently writing in English."
- Peter Vickery QC, Victorian Bar News, Spring/Summer 2007 (now Vickery J)

"It is structured quite differently from any other text in encyclopaedic form. The author's wisdom stands out."
- John Rowan QC, New Zealand Law Journal, June 2008

Ross on Crime is the indispensable online reference tool for all criminal law practitioners. It covers more than 350 terms and principles relating to criminal law practice in Australia in an easy to use A-Z format. As well as a succinct statement of the law on a particular subject, there is a summary of the leading case law in the area. The content is regularly updated, generally 4 times per year, and the online format allows convenient search functionality and linking to other Thomson Reuters online databases, including Australian Criminal Reports (subject to subscription) and Firstpoint, which provides citation information on the cases referred to in the text.

Until his passing, David Ross QC of the Victorian Bar brought his extensive experience in criminal trials and appeals throughout Australia and overseas to this unique work. The work is now updated by Rob O'Neill, a scholar and lawyer viewed, and groomed, by David as a worthy successor.

Ross On Crime is also available in book format, perfect as a convenient take-to-court reference or for leisure reading.