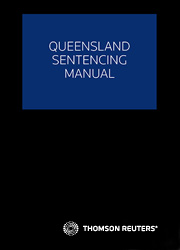 Queensland Sentencing Manual Online
Online

Date: 19/11/2008

Code: 41167487

Lawbook Co., AUSTRALIA

Enquiry Sent

A member of our support team will be in touch with you within 1 business day.

Enquiry Form

Queensland Sentencing Manual Online
Description
Queensland Sentencing Manual is a unique reference to sentencing in Queensland under the Penalties and Sentences Act 1992 and other relevant legislation.
Presented in a clear, logical format this service has all the important resources you need if you are involved with sentencing in Queensland. Extensive use of tables, concise explanations and guides to the various Acts and maximum penalties make this an extremely practical resource. It is also designed to promote and encourage consistency in sentencing. Commentary and casenotes are provided by Judge John Robertson of the District Court. Regular updating reflects developments in law and practice.


* Price is for a single annual subscription for firms or businesses with one practitioner. Practitioner is defined as employed and/or self-employed professionals within Australia including: solicitors, self-employed barristers, HR professionals and environmental specialists, corporate counsel, accountants including CPAs and CAs and registered tax agents and financial planners. For pricing for government departments and authorities and multiple users
submit an enquiry online
or call 1300 304 195.
COMPLETE YOUR QUEENSLAND CRIMINAL LAW LIBRARY