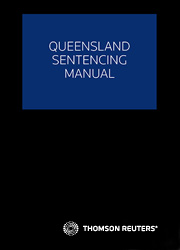 Queensland Sentencing Manual Online
Online

Date: 19/11/2008

Code: 41167487

Lawbook Co., AUSTRALIA

Enquiry Sent

A member of our support team will be in touch with you within 1 business day.

Enquiry Form

Queensland Sentencing Manual Online
Description
The Queensland Sentencing Manual is a practical resource designed for those involved with sentencing and criminal law in Queensland. Presented in a clear, logical format, with extensive use of tables, concise explanations and guides to the various Acts and maximum penalties, the service promotes and encourages consistency in sentencing.
Commentary and case notes are provided by Judge John Robertson of the District Court of Queensland, who regularly updates the service to reflect developments in law and practice.
This product can be used alongside other services, including Summary Offences Queensland, Criminal Law Journal and Australian Criminal Reports.
COMPLETE YOUR QUEENSLAND CRIMINAL LAW LIBRARY