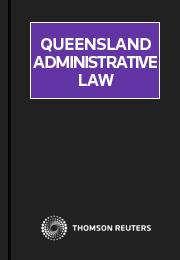 Queensland Administrative Law Online
Online

Date: 10/12/2008

Code: 41167257

Lawbook Co., AUSTRALIA

Enquiry Sent

A member of our support team will be in touch with you within 1 business day.

Enquiry Form

Queensland Administrative Law Online
Description
Queensland Administrative Law is a concise reference and practice guide covering the key areas with commentary by leading experts and detailed coverage of the principal statutes of Queensland administrative law.
Expert commentary by the authors analyses legislative amendments and case law developments in freedom of information, the role of the Ombudsman and information privacy. Major changes to administrative law in Queensland have occurred and Queensland Administrative Law is well placed to ensure subscribers are kept up to date with the jurisdiction of the Queensland Civil and Administrative Tribunal, Queensland Civil and Administrative Tribunal Act 2009, the Queensland Civil and Administrative Tribunal Regulation 2009, the Queensland Civil and Administrative Tribunal Rules 2009, the Information Privacy Act 2009 and the Right to Privacy Act 2009.
The service is available in looseleaf and online through Westlaw AU and Proview.
* Price is for a single annual subscription for firms or businesses with one practitioner. Practitioner is defined as employed and/or self-employed professionals within Australia including: solicitors, self-employed barristers, HR professionals and environmental specialists, corporate counsel, accountants including CPAs and CAs and registered tax agents and financial planners. For pricing for government departments and authorities and multiple users
submit an enquiry online
or call 1300 304 195.