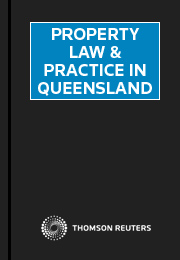 Property Law & Practice in Queensland Online
Online

Date: 05/09/2001

Code: 41167192

Lawbook Co., AUSTRALIA

Enquiry Sent

A member of our support team will be in touch with you within 1 business day.

Enquiry Form

Property Law & Practice in Queensland Online
Description
William Duncan, Professor of Property Law and Assistant Dean, Research, Faculty of Law, at the Queensland University of Technology and Anne Wallace, Retired Senior Lecturer in Law at the Queensland University of Technology author the extensive annotations to the Property Law Act 1974 . They discuss all relevant aspects of property law as well as the laws of contract, equity, statutory interpretation, corporations and insolvency where a knowledge of those areas is necessary for a full understanding of the subject area.
The New Content Locater summarises the latest changes giving the busy practitioner a quick overview. Precedents, approved forms plus a table of Comparative Acts all assist those practising in the property law area.

The service includes the Land Act 1994 and Land Regulation 1995 which is annotated by Chris Boge , Special Counsel with Clayton Utz, Brisbane, who specialises in property law, land tenure and project related matters. His special interests are the law relating to non-freehold land, submerged land, land management legal issues and equity.
Table of Contents
Property Law Act 1974
Preliminary
General Rules Affecting Property
Freehold Estates
Future Interests
Concurrent Interests: Co-Ownership
Deeds, Covenants, Instruments and Contracts
Sales of Land
Mortgages
Leases and Tenancies
Incorporeal Hereditaments and Appurtenant Rights
Encroachment , Mistake, Rights of Way
Equitable Interests, Powers of Appointment
Perpetuities, Accumulations, Corporations
Voidable Dispositions, Accumulations, Unregistered Land
De Facto Relationships
Miscellaneous
Property Law Regulation 2003
Forms and Precedents
Land Act 1994
Land Regulation 1995

* Price is for a single annual subscription for firms or businesses with one practitioner. Practitioner is defined as employed and/or self-employed professionals within Australia including: solicitors, self-employed barristers, HR professionals and environmental specialists, corporate counsel, accountants including CPAs and CAs and registered tax agents and financial planners. For pricing for government departments and authorities and multiple users
submit an enquiry online
or call 1300 304 195.