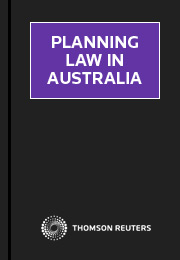 Planning Law in Australia eSub
eSub - ProView

Date: 01/11/2014

Code: 41594329

Thomson Reuters, AUSTRALIA

Enquiry Sent

A member of our support team will be in touch with you within 1 business day.

Enquiry Form

Planning Law in Australia eSub
Description
Planning Law in Australia is a concise commentary text designed to provide practitioners, councils and planners with interpretation of legislation and case law necessary for practice in this area of law.
The service provides commentary in narrative style, which is divided by jurisdiction so that practitioners can quickly access the area in which they are dealing. Within each jurisdiction are separate chapters that cover the main subject areas of planning and development systems, judicial systems, heritage law and environmental law.
In 2014 this product was streamlined and enhanced. New authors were commissioned to write new content (such as content on environmental law at the Commonwealth level) and restructure existing content to better accommodate the way in which practitioners work in this area (for example, planning and development chapters were combined).
*
Price is for a single annual subscription for one user and includes all updates issued during the year. For pricing for multiple users or for existing subscribers to the service in other formats, please submit an enquiry online or call 1300 304 195.

eBooks and eSubs (an updating subscription eBook) may not be returned once the software key has been supplied to the customer, which supply will be by email after publication of the eSub or eBook. Your rights as a customer to access and use the ProView software and a ProView eSub are subject to acceptance of the terms upon which are at http://thomsonreuters.com.au/terms/content-licence-for-australian-proview-ebooks.asp.