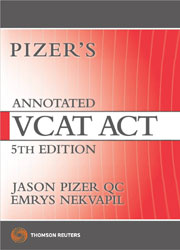 Pizers Annotated VCAT Act 5e eBook
eBook - ProView

Date: 25/06/2015

Code: 9780455235899

Thomson Reuters, AUSTRALIA

Pizers Annotated VCAT Act 5e eBook
Description
Pizer's Annotated VCAT Act 5e is an invaluable resource for anyone who has to go to the VCAT. It contains:
an overview of the VCAT;
a full copy of the VCAT Act, the VCAT Regulations and the VCAT Rules; and
extensive commentary on the practice and procedure of the VCAT.
Portable, practical and providing authoritative guidance on the workings of the VCAT, Pizer's Annotated VCAT Act is a "must have" for the VCAT user.
COMMENTS ON THE FOURTH EDITION
"The particular strength of Pizer's work is that it provides a comprehensive, carefully reasoned, well organised and entirely accessible analysis of the procedure and substantive law governing VCAT. … This book has long been regarded as a useful resource for lawyers whose work takes them to VCAT but over successive editions it has developed an accumulated body of analysis which is so comprehensive that those who work in VCAT ... cannot afford to be without this book." – Professor Matthew Groves
"You'd be mad to go to the VCAT if you didn't have a copy of Jason Pizer's book." – Elizabeth Ruddle, Barrister
AUTHORS
Jason Pizer QC is a barrister at the Victorian Bar. He took silk in 2013, and practises in the broad areas of administrative law and commercial law. Jason has also been the consultant editor for the Victorian Administrative Law service since late 2013, having held an editorial position since 1996.
Emrys Nekvapil is a barrister at the Victorian Bar, practising in public law and commercial law. He is the Editor of the Victorian Administrative Law looseleaf service.
*
eBooks and packages including an eBook may not be returned once the software key has been supplied. Your rights as a customer to access and use the ProView™ software and a ProView eBook are subject to acceptance of the ProView content licence agreement.
NB
An email with a registration key and instructions for accessing your eBook will be sent after checkout. For existing ProView users the eBook will appear in your library after checkout.

Forthcoming/pre-order eBooks will be available after the publication date.

The ProView app is not currently available on IPhone or Kindle. See the latest system requirements