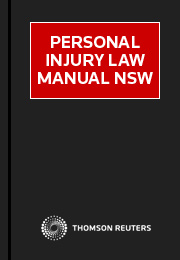 Personal Injury Law Manual NSW Online
Online

Date: 06/12/2006

Code: 41167260

Lawbook Co., AUSTRALIA

Enquiry Sent

A member of our support team will be in touch with you within 1 business day.

Enquiry Form

Personal Injury Law Manual NSW Online
Description
Personal Injury Law Manual NSW is an authoritative and practical guide to the principal areas of personal injury law, from motor accident claims to occupier's liability. Commentary is written by leading lawyers in this jurisdiction - Thomas Goudkamp, an accredited specialist in personal injury law and an arbitrator in the Supreme Court of NSW ; and Dr Andrew Morrison SC, who practises at the New South Wales Bar.
Personal Injury Law Manual NSW provides a practical step by step guide to preparing a personal injury matter, including providing guidance on who can claim, preliminary steps and notice, commencing proceedings and assessment of damages. Each step is analysed and discussed in detail with comprehensive references to reported and unreported decisions and to relevant legislation.
As well as practical tips and comments given throughout, the service also contains a large number of precedents, It also includes chapters on court procedure, alternative dispute resolution and professional standards. There is also a comprehensive section on medicine in personal injury cases, which includes an extensive glossary of medical terms.

* Price is for a single annual subscription for firms or businesses with one practitioner. Practitioner is defined as employed and/or self-employed professionals within Australia including: solicitors, self-employed barristers, HR professionals and environmental specialists, corporate counsel, accountants including CPAs and CAs and registered tax agents and financial planners. For pricing for government departments and authorities and multiple users
submit an enquiry online
or call 1300 304 195.