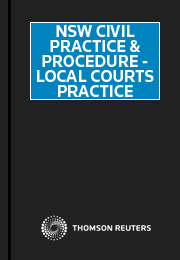 NSW Civil Practice & Procedure - Local Courts Practice online
Online

Date: 20/11/2013

Code: 41588188

Lawbook Co., AUSTRALIA

Enquiry Sent

A member of our support team will be in touch with you within 1 business day.

Enquiry Form

NSW Civil Practice & Procedure - Local Courts Practice online
Description
The coverage of the Local Court civil jurisdiction means we recognise that practitioners dealing with the Local Court need more practical and outcome-focussed coverage. In particular, the Practice Guide explains the process for matters run in the Local Court and is set out as a narrative guide to practice, divided into the various stages of the conduct of a matter, while the Court Guide covers all the core legislation and rules with annotations relating to Local Court procedure.
The online version is ideal as a desk research tool or as a compliment to the looseleaf service. With links to FirstPoint and other services, it is also useful in extending your research to other courts.
*
1) Price is for a single annual subscription for firms or businesses with one practitioner. Practitioner is defined as employed and/or self-employed professionals within Australia including: solicitors, self-employed barristers, HR professionals and environmental specialists, corporate counsel, accountants including CPAs and CAs and registered tax agents and financial planners. For pricing for government departments and authorities and multiple users submit an enquiry online or call 1300 304 195.