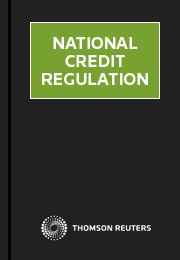 National Credit Regulation: Online (Westlaw AU)
Online

Date: 27/04/2010

Code: 41167374

Thomson Reuters, AUSTRALIA

Enquiry Sent

A member of our support team will be in touch with you within 1 business day.

Enquiry Form

National Credit Regulation: Online (Westlaw AU)
Description
National Credit Regulation is the essential subscription publication to inform and assist credit professionals and legal advisers. In its preparation, Thomson Reuters has worked closely with ASIC in incorporating the reference materials, and with Gadens Lawyers who have contributed the commentary written under the leadership of senior partner, Jon Denovan.
The service combines:
The underpinning legislation – with "law in force" flagging in the online service
ASIC guidance material and legislative instruments regarding compliance
Practical commentary taking subscribers through the detail, from the licensing regime to the responsible lending obligations.
Regular updates for looseleaf and online formats offer the reassurance of up-to-date guidance.
Features
The combination of practical commentary, ASIC's regulatory guidance documents and the relevant legislation provides you with an essential information package to ensure you are meeting your obligations.
Assists you in maintaining best practice standards in your corporate governance responsibilities, thus protecting your company's reputation.
Organised and structured clearly and concisely to provide you with the answers you need as quickly as possible.
Keeps you informed of developments and changes to the national credit system giving you a clearer understanding of your professional obligations.
Table of Contents
Breaking News
Update Summaries
New Developments
Commentary
Introduction and glossary of terms
Overview of the Commonwealth regulation of credit
Phase 2 initiatives
Pre-NCCP regulation (including continuing regulation)
Transition from UCCC to NCC
Registration and licensing
Representatives and credit representatives
General conduct obligations
Responsible lending obligations – unsuitable loans
Responsible lending obligations – disclosures
Enhancement Act
Mortgage managers and non-balance sheet lenders
Dispute resolution
Jurisdiction and penalties
Other laws applying to the finance industry
Legislation

National Consumer Credit Protection (NCCP) Acts and Regulations

Related Legislation

Crimes Act 1914 (Cth) – extracts
Competition and Consumer Act 2010 (Cth) — extracts
Electronic Transactions Regulations 2000 (Cth)
Credit (Commonwealth Powers) Act 2010 (NSW)

ASIC Materials

Selected Executive Summaries
Selected Regulatory Guides
ASIC Class Orders
Reports
* Price is for a single annual subscription for firms or businesses with one practitioner. Practitioner is defined as employed and/or self-employed professionals within Australia including: solicitors, self-employed barristers, HR professionals and environmental specialists, corporate counsel, accountants including CPAs and CAs and registered tax agents and financial planners. For pricing for government departments and authorities and multiple users
submit an enquiry online
or call 1300 304 195.