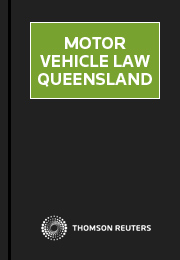 Motor Vehicle Law Queensland eSubscription
eSub - ProView

Date: 01/05/2014

Code: 41615215

Thomson Reuters, AUSTRALIA

Enquiry Sent

A member of our support team will be in touch with you within 1 business day.

Enquiry Form

Motor Vehicle Law Queensland eSubscription
Description
Complete guide dedicated to motor vehicle law in Queensland
Motor Vehicle Law Queensland provides extensive coverage of both the civil and criminal aspects of motor vehicle law in Queensland. Includes in depth commentary on the latest cases and both technical and practical advice for all relevant civil and criminal legislation as well as important practice points and thorough discussions on all the essential areas of Queensland motor vehicle law.
Features
Authoritative, thorough and challenging commentary: provides coverage of both the civil and criminal aspects of motor vehicle law and offers technical and practical advice regarding legal precepts and procedure.
Easy to use: thematic arrangement across the service as well as commentary structured to facilitate research.
Comprehensive: cross references to Mackenzie and Tucker's Summary Offences Queensland ensures coverage of both summary offences as well as the civil and criminal aspects of the law.
*
Price is for a single annual subscription for one user and includes all updates issued during the year. For pricing for multiple users or for existing subscribers to the service in other formats, please submit an enquiry online or call 1300 304 195.

eBooks and eSubs (an updating subscription eBook) may not be returned once the software key has been supplied to the customer, which supply will be by email after publication of the eSub or eBook. Your rights as a customer to access and use the ProView software and a ProView eSub are subject to acceptance of the terms upon which are at http://thomsonreuters.com.au/terms/content-licence-for-australian-proview-ebooks.asp.