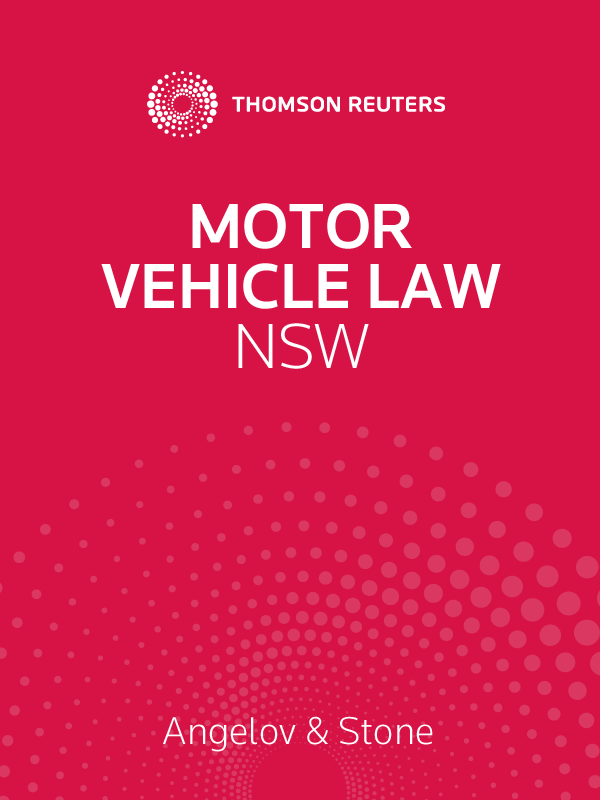 Motor Vehicle Law NSW Online
Online

Date: 06/12/2006

Code: 41167358

Lawbook Co., AUSTRALIA

Enquiry Sent

A member of our support team will be in touch with you within 1 business day.

Enquiry Form

Motor Vehicle Law NSW Online
Description
This subscription service provides a complete guide to the principles relevant to civil and criminal proceedings arising out of the use of motor vehicles in New South Wales.
A practical reference tool, the service gives you coverage of all relevant civil and criminal legislation such as the Australian Road Rules with detailed diagrams and illustrations, and associated legislation on road transport.
Public and private hire transport legislation administered by state government departments and local councils are included together with all relevant information in making a claim under the Motor Accidents Act 1988, Motor Accidents Compensations Act 1999 and Motor Accidents (Lifetime Care and Support) Act 2006 and associated regulations. Special features of the service include actuarial and economic loss tables, and a procedural guide to the Motor Accidents Act 1988.

* Price is for a single annual subscription for firms or businesses with one practitioner. Practitioner is defined as employed and/or self-employed professionals within Australia including: solicitors, self-employed barristers, HR professionals and environmental specialists, corporate counsel, accountants including CPAs and CAs and registered tax agents and financial planners. For pricing for government departments and authorities and multiple users
submit an enquiry online
or call 1300 304 195.