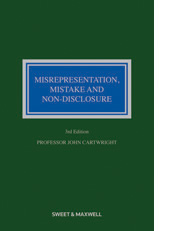 Misrepresentation Mistake & Non Disclosure 3rd Edition
Book

Date: 24/02/2012

Code: 9780414049550

Sweet & Maxwell, UNITED KINGDOM

Misrepresentation Mistake & Non Disclosure 3rd Edition
Description
This in-depth, practitioner text offers comprehensive guidance on the effect of misrepresentation, mistake or nondisclosure on contracts. It explores the circumstances in which each can arise, examines the available remedies, and explains how to advise clients when bringing or defending a claim based on these principles.
In one volume it draws together the complex mixture of rules of common law and statute that comprise the law in this area and is written in such a way that practitioners can immediately find a discussion of the particular problem they face.
Features:
Explains the principles of misrepresentation, mistake and non-disclosure so they can be avoided in contract drafting
Gives guidance on practice and procedure for conducting a case involving these areas
Discusses the advantages and disadvantages of the various remedies
Covers both fraudulent and negligent misrepresentation
Looks at mistake in the terms of the contract, in the identity of the other party and in the subject-matter of the contract
Considers the problems arising from nondisclosure
Explores recent case law in depth, including the House of Lords decision in Chartbrook Ltd v Persimmon Homes Ltd, the Court of Appeal decision in Conlon v Simms, and the continuing debate about the Great Peace case on mistake
Analyses recent legislative developments such as the Consumer Credit (EU Directive) Regulations 2010 and Consumer Credit (Disclosure of Information) Regulations 2010
Draws comparisons with other jurisdictions and looks at the directions in which English law might develop.
Contents
Introduction. Misrepresentation. Mistake. Non-disclosure.
Jurisdiction: England/Wales/Commonwealth